Professor Patti Alleva Advocates Change in Lead Article for The Pedagogy of Civil Procedure Symposium
A longtime advocate of legal education reform, Webb Professor of Law Patti Alleva was invited to co-chair the Teaching Methods Section Program at the annual conference of the Association of American Law Schools in New York City in 2016.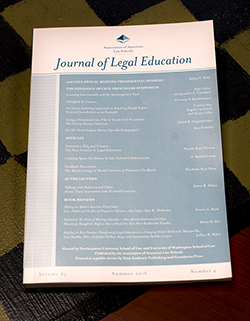 After issuing a national call for presenters, she (and Professor Jennifer Gundlach) designed a program they titled The Pedagogy of Procedure: Using Civil Procedure To Showcase Innovative Teaching Methods in order to spark new thinking about teaching and learning in traditional doctrinal courses, using Civil Procedure as the exemplar.
The Journal of Legal Education invited Professors Alleva and Gundlach to put together a written symposium growing out of that program. Alleva and Gundlach's own contribution to this interesting collection — the lead article Learning Intentionally and the Metacognitive Task, 65 J. Legal Educ. 710 (2016) — explores the importance of metacognition and "learning about learning" to professional development in both the academic and practice arenas. Their article urges law schools to show more institutional respect for learning theory as a subject worthy of independent attention in the curriculum given that so much of lawyering involves learning. According to the Journal of Legal Education website, readers throughout the United States and from around the world (including Australia, Brazil, Canada, England, India, Ireland, Sweden, Mexico, Iran, Costa Rica, Nigeria, the Philippines, and South Africa) have downloaded the article.
A two-time recipient of the University of North Dakota's prestigious Lydia & Arthur Saiki Prize For Graduate or Professional Teaching Excellence, Professor Alleva is one of only twenty-six law professors featured in the book What the Best Law Teachers Do (Harvard University Press 2013). She currently serves the law school as Faculty Mentor for Teaching and Learning Enhancement. Professor Alleva also coordinates (with Professor Julia Ernst) and teaches in Professional Foundations, a novel and nationally-recognized team-taught first-year course she played a lead role in creating in order to help new law students develop the habits of professional self-reflection and considered judgment.
Professor Alleva graduated summa cum laude from Hofstra University with a B.A. in American History and membership in Phi Beta Kappa. She received her J.D. degree from Hofstra Law School, where she was Articles Editor of the Hofstra Law Review. After graduation, she clerked for Chief Judge Clarkston S. Fisher of the U.S. District Court of New Jersey, and then practiced law in New York City at Proskauer Rose in the firm's Litigation Department for six years before coming to North Dakota in 1987.
Editors note: Professor Alleva's article was recently selected by TaxProf Blog as one of the best legal education articles for 2016. The complete list is here.