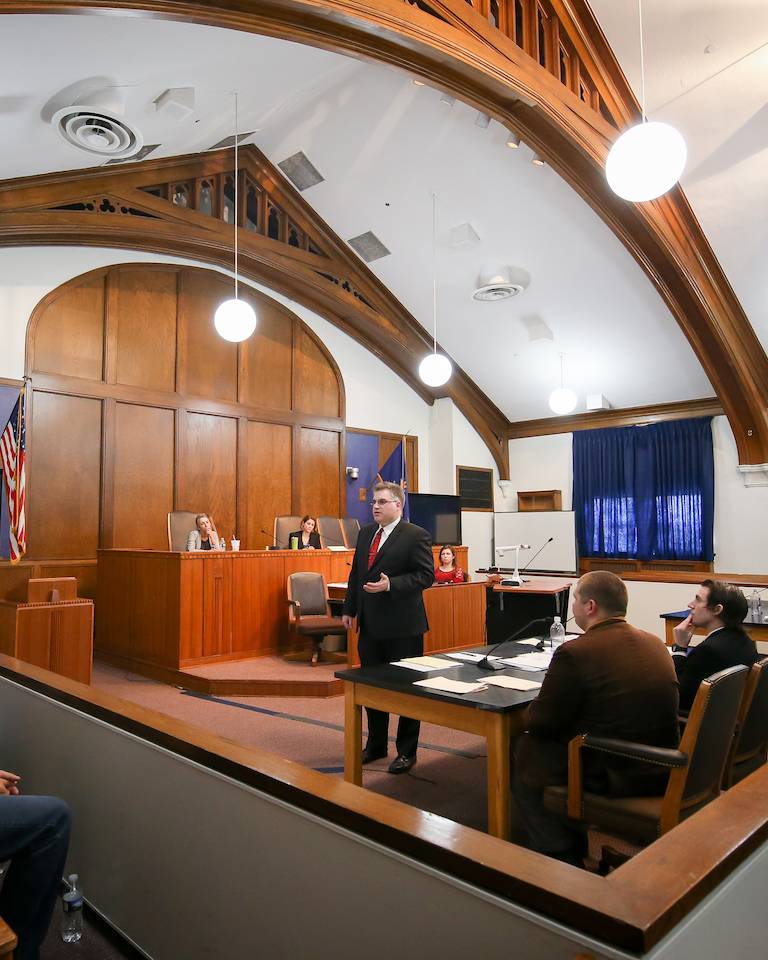 About
Founded in 1899, and steeped in rich tradition, the University of North Dakota School of Law has served as the state's only law school and has shaped the legal environment of North Dakota.
The School of Law blends an innovative education with creative and entrepreneurial opportunities and a spirit of community in its education of approximately 250 students. The University of North Dakota is the state's most comprehensive research university and the primary center for professional education and training.
Accredited Law Degree
UND Law has been continuously accredited by the American Bar Association since 1923. Founded in 1899, the School of Law joined the Association of American Law Schools in 1911 and the Order of the Coif in 1925.
UND LAW'S ABA REQUIRED DISCLOSURES
UND Law Programs
UND School of Law offers a high-quality legal education at an affordable price. We are proud of the environment we provide that values students as people, and a faculty and staff invested in the professional and personal growth of each student.
Law Accelerated (Bachelor's/J.D.)
Public Administration (J.D./M.P.A.)
Leaders in Law
UND first-time ND Bar Exam pass rate, 2020
Best-value Law School in the U.S.
Why UND School of Law?
Practice-Ready Education
UND educated attorneys are well-rounded legal professionals with the necessary skill set to serve as effective, innovative, and ethical leaders. Students gain hands-on training through real-world experiences by participating in externships, competitions, practicums, simulation courses, and projects. Our curricular goals are to facilitate each student's professional and personal development and to promote the highest professional standards, critical thinking, self-and other-awareness, creative problem solving skills, life-long learning, and a commitment to serving society.
Small Community of Faculty, Staff and Scholars Committed to Your Success
The personal attention given to each student and the intimate nature of the educational experience are, in part, a function of our size. In an entering class of 80 to 90 students and an overall student body of around 250, no one gets lost in the crowd.
Value at an Affordable Price
Investing in a law degree is both a personal and financial commitment. Consistently recognized as a "best value law school" UND School of Law offers a high quality educational program at an affordable price, ranking in the top ten law schools with the least amount of student debt. We believe affordability means our graduates have the ability to pursue the career path they want. Financial Aid, scholarships, and waivers are also available to make your legal education affordable.
A Growing Need for Legal Services in North Dakota
The State of North Dakota is in the midst of a rapid-onset shortage of lawyers. In just the last few years, the state's growth in population and economic development, particularly in western North Dakota, and the accompanying surge in civil and criminal cases have resulted in overburdened court systems and legal services providers. Practice-ready lawyers are critically needed throughout our state. These legal needs span the spectrum from family law, financial and estate planning, real estate and housing law to the complexities of criminal and constitutional law.
Built for Your Future
With the support of the North Dakota State Legislature and N.D. Governor Jack Dalrymple the state made an historic commitment to the legal future of North Dakota by supporting an $11.4 million appropriation for an addition to and renovation of North Dakota's only School of Law. Completed in fall 2015 the building addition and renovation enhanced the already strong academic reputation of the UND School of Law through the addition of student space, new classrooms and courtroom space.