UND Law School receives notice of successful reaccreditation
Recent building project critical to approval
The University of North Dakota School of Law recently received its clearance letter from the American Bar Association (ABA) Accreditation Committee, formally completing the 2014 reaccreditation visit and certifying it to continue as an ABA-approved school. The completion of the recent $14.4 million building addition and renovation was the critical piece in securing the final approval.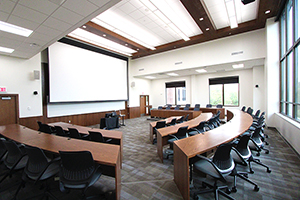 "While we were pleased the most significant concern we faced during the 2014 reaccreditation process was the adequacy of our facility, it put a spotlight on the serious need for the building project to support our academic program and our students," said Dean Kathryn Rand. "I want to say thank you again to all who were involved in securing the necessary funding and completing the project in a timeframe that was acceptable to the Accreditation Committee. The teamwork that accomplished an on-time and on-budget project was invaluable in securing the final approval for North Dakota's law school."
The building project directly addressed concerns raised in prior reaccreditation visits. The educational space improved significantly as additional classrooms were added, featuring a state-of-the-art teaching courtroom, deliberation room and a high-tech "case study" classroom. Additional student study, collaboration and gathering space can be found throughout the addition and the renovated law library. Relocating all of the operations into the building to begin the Fall 2015 semester was another important milestone. Orientation for new first year students opened with a reception in the new Central Commons area on August 17 and the full slate of classes began on August 24 in the new and renovated classrooms.
In reporting to the Accreditation Committee on the successful start of the Fall 2015 semester, Rand described the impact the new and improved Law School building has had, not only related to accreditation standards but beyond. Rand wrote, "With this project we have created much more than a facility meant to demonstrate compliance with the standards. We achieved so much more–tangible and marked improvements in the teaching and learning that occurs daily, strengthened and deepened relationships among our faculty, staff and students, and a collective sense of both pride and responsibility in the School of Law, as though our law school building is no longer something we need to overcome, but instead something we strive to live up to."