UND Law School Welcomes Class of 2018 in New and Renovated Building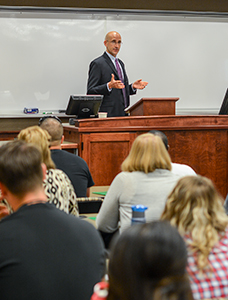 The University of North Dakota School of Law opened its doors for the first time since completing the building addition and renovation project Monday to welcome the Class of 2018 to orientation week.
"We are so excited to be back in our new and renovated law school building, and to welcome our Class of 2018," said Dean Kathryn Rand. "The addition and renovation have dramatically enhanced our classrooms and educational spaces, and will immediately benefit this year's students as well as generations of students who will follow in their footsteps."
In May of 2014, the School of Law faculty, staff and students packed up and moved out of the building so the $14.4 million renovation and building addition project could begin. The state legislature contributed a total of $11.9 million to the project, and authorized private fundraising to complete the project. The faculty and staff were housed in five different locations across campus, and students attended classes in eight different buildings during the 2014-15 school year. Just over one year later, everyone is settled back in the building to welcome the new students and bring the law school family of returning students, faculty and staff back together for the beginning of the fall semester on Monday, August 24.
On the morning of August 17, the fences outlining the formal construction site came down, signifying the completion of the project and opening the doors to the public. Dean Rand hammered in the ceremonial final nail in the new teaching courtroom, and the staff and faculty welcomed a group of 85 new, energetic first-year students excited to see the facility they will call home for the next three years.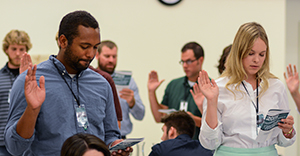 The first formal reception for the newest students was held in the new central commons area Monday afternoon to kick off the orientation week activities. Immediately following the reception, students and their guests attended a formal dinner where they heard U.S. Magistrate Judge for the District of North Dakota Charles S. Miller, Jr. deliver a keynote address on professionalism and what lies ahead. Following the address, Judge Miller led the new students in taking the Oath of Professionalism and a formal pinning ceremony to officially begin on the path to obtaining their legal education.
Orientation activities will continue though the week which includes information sessions, informal meetings with small group leaders of current second- and third-year students and opportunities to get settled prior to their full schedule of classes beginning on August 24. First-year students also get a taste of the classroom as they will complete their first section of Lawyering Skills class by the end of the week.