Successful beginning to fall 2015 semester in the new Law School building
The energy level and excitement surrounding the start of the fall 2015 semester at the University of North Dakota School of Law was at an all-time high as students, faculty and staff completed their first week of classes in the $14.4 million new and renovated law school building.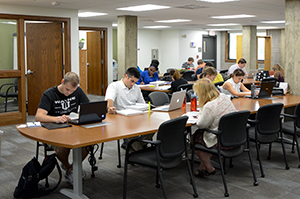 "There is definitely an energy as soon as you walk into the building. Everybody is excited, and I really feel that this is translating into our classes," said third-year student Annique Lockard. "We are so excited to be back in the building to see all the new faces and to have the opportunity to rebuild the relationship that we lost last year when we were spread all over campus."
The fall semester officially kicked off at 8:00 a.m. on Monday, August 24 with two classes, Military Law and Modern Real Estate, both held in new classrooms in the building addition. "We are so pleased to be able to welcome our students back home for the fall semester," said Dean Kathryn Rand. "The good work of many people made the completion of this critical project a reality."
One week earlier, Law School faculty and staff welcomed a strong class of new first-year students. The entering class of 85 students meant the school met its enrollment goal amidst a continued national trend of decreasing law school enrollments.
The Class of 2018 is made up of 47 men and 38 women and includes students from North Dakota, 13 other states as well as several students from Canada. Ben Hoffman, Director of Admissions, attributed meeting the enrollment goal to an excitement about the new building, a stronger individual connection to prospective students and a new scholarship program for first-year students supported by the Edson and Margaret Larson Foundation.
In May of 2014, the School of Law faculty, staff and students packed up and moved out of the building so the renovation and building addition project could begin. Fifteen months later the doors reopened revealing a dramatically different UND School of Law. "When I walked into the new building I felt right at home," said third-year student Ariana Meyers. "I really felt like it was open, welcoming, bright and a great new space to socialize, to get together with your peers and talk with your professors."
The educational space improved significantly as additional classrooms were added featuring a state-of-the-art teaching courtroom, deliberation room and a high-tech "case study" classroom. Additional student study, collaboration and gathering space can be found throughout the addition and the renovated law library.
"The goal of the School of Law building project was to enhance the educational experience of our students—and just a few weeks into the academic year, the elevated quality of the School of Law's facilities and the positive impact on students is already obvious," said Rand.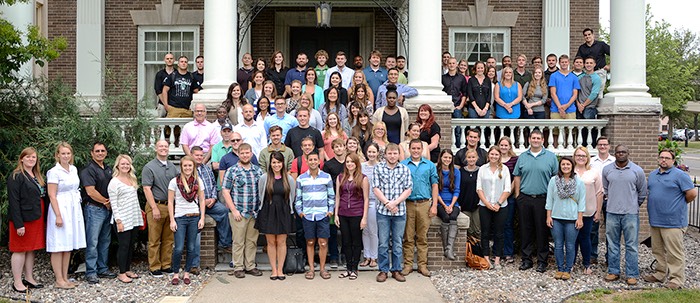 UND School of Law Class of 2018