Events put focus on UND Law Indian and Tribal Law program
The UND School of Law is proud of its curriculum and additional offerings for students interested in Indian and Tribal Law. In April, when the UND campus annually celebrates the UNDIA Time-Out week, several law related events featured programing and opportunities in Indian and Tribal Law at the School of Law.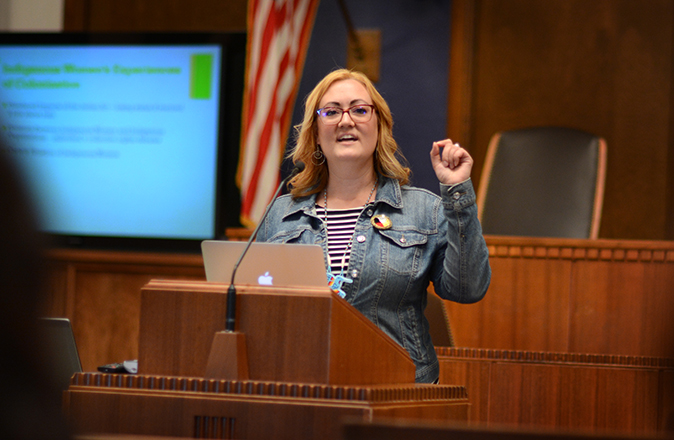 The highlight of the activities at the law school was a presentation by Northern Plains Indian Law Center 2016 Distinguished Speaker Brenda Gunn. Her presentation titled, Including Indigenous Women in Self-Determination was held in the ceremonial Baker Courtroom at the School of Law.
"Professor Gunn's impressive international credentials continued the high caliber tradition of the School of Law's Distinguished Indian Law Speaker during Time Out Week," said UND Law Professor James Grijalva. "Her presentation offered a unique opportunity for our students to understand other countries' approaches to indigenous rights and cultures, compare them to U.S. Indian law, and particularly appreciate the important role of Indigenous women in the development of effective tribal self-determination."
Gunn is an Associate Professor Robson Hall Faculty of Law at the University of Manitoba. She has a B.A. from the University of Manitoba and a J.D. from the University of Toronto. She completed her LL.M. in Indigenous Peoples Law & Policy at the University of Arizona. She articled with Sierra Legal Defence Fund (now Ecojustice Canada). She was called to the bars of Law Society of Upper Canada and Manitoba. Gunn also worked at a community legal clinic in Rabinal, Guatemala on a case of genocide submitted to the Inter-American Commission of Human Rights. She has also worked with First Nations on Aboriginal and treaty rights issues in Manitoba.
As a proud Métis woman she continues to combine her academic research with her activism pushing for greater recognition of Indigenous peoples' inherent rights as determined by Indigenous peoples' own legal traditions. Her current research focuses on promoting greater conformity between international law on the rights of Indigenous peoples and domestic law. She continues to be actively involved in the international Indigenous peoples' movement, regularly attending international meetings.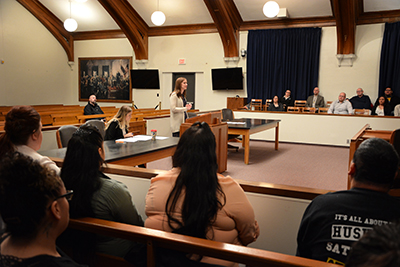 Earlier in the week, the School of Law faculty and students welcomed a group of 21 prospective law students from Tribal Colleges throughout the state. The students, advisors and faculty enjoyed a full day of activities meant to give them a flavor of what it is like to be a law student.
The event provided a unique opportunity for the prospective students to gain first-hand knowledge and insight to what law students experience on a daily basis. "This exciting visit was a first of its kind, and grew out of the law school's participation on the North Dakota Supreme Court's Minority Justice Implementation Committee, which among other goals seeks to increase the number of American Indians in the legal profession," said Dean Kathryn Rand.
The visit included a mock appellate court demonstration with Professor Grant Christensen as judge and third-year student Kylie Oversen and second-year student Morgan Wagner as attorneys making the arguments. The group also experienced a mock class lecture by Grijalva, a discussion of Tribal Law with Professor Michelle Parks, an informal conversation with current American Indian students as well as the opportunity to sit in on Rand's Indian Gaming course.
In early April three UND Law students had the opportunity to attend the 2016 Federal Bar Association Indian Law Conference in Scottsdale, Arizona. Third-year students Robert Silva, Barbara Olds andNicholas Baker took advantage of this excellent opportunity to network and learn from legal practitioners who are engaged in all areas of Indian Law and are tied to Indian Country. Students also made connections with UND School of Law alumni as pictured right. From left: Olds, Baker, Whitefishwoman '13, Silva, Jennifer Cross '13, Jeanne Williams '15, and Stacie Crawford '15. Not pictured here but also attending the conference were Antonio Solorzano '15 and Chris Ironroad '12.
"My favorite event was the breakout session concerning Tribal In-house Counsel," said Silva. "The panelists included two tribal presidents and two former tribal in-house counsel explaining the challenges they faced and the overall satisfaction and fulfillment they experienced representing the tribe as the sole client.
Finally, the Law School received a new addition to add to the beauty of the new and renovated law school building from Grijalva. He provided a painted bison robe to be displayed on the first floor near the main library entrance. The hide was given to him by 2013 School of Law alumna Whitefishwoman, a former Native American Law Students Association President, in appreciation for all he did for her while in law school.
Grijalva was so moved by the gift and the beauty of the hide, he wanted to put it on display for all who enter the law school building to enjoy. "I was so honored to receive this unique gift of appreciation from such a special student. It is an amazing piece of Indigenous artwork, and I am so glad we were able to find a way for all in the law school community to enjoy it." said Grijalva.
The UND School of Law is proud of the tradition of support for its education opportunities for American Indian students, the curriculum in Indian and Tribal Law and the related Indian Law certificate. The NALSA student organization and annual events support that mission. For more information about related programs see the Northern Plains Indian Law Center page.