A Tribute to Judge Myron H. Bright
In 1968 President Lyndon B. Johnson nominated Myron H. Bright for an open seat on the U.S. Courts of Appeals for the Eighth Circuit after 21 successful years at a trial attorney. In his 48 years on the bench, Judge Bright presided over more than 7,000 cases and authored more than 3,000 opinions.
Judge Bright had a strong commitment to legal education and often shared his time and experience at UND Law School. In particular, he shared two notable cases with UND Law students. In fall of 2006, Judge Bright discussed the case of James Dean Walker, examining the trials and appeals of a man wrongfully convicted of murder. In October, 2013, Bright spoke to the UND Law community and guests regarding the Dana Deegan case in which he supported a campaign get a North Dakota American Indian woman released from federal prison.
At 95, Judge Bright penned his memoir, Goodbye Mike, Hello Judge, a story that leads readers through Bright's transition from trial lawyer and political activist to one of the most respected members of the bench. UND Law School Dean Kathryn Rand wrote this review of Bright's book in the University of Nebraska-Lincoln's Center for Great Plains Studies journal in 2016.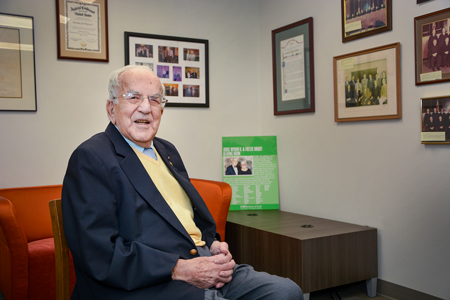 In 2015 the UND School of Law honored Judge Bright's longtime support of his "adopted" law school by dedicating the Judge Myron and Fritze Bright Reading Room. The room located on the lower level of the law school's library and houses much of Judge Bright's law memorabilia, of which many items hold great historical significance.
The UND School of Law community was saddened by the passing of Judge Myron Bright on December 12, 2016 at the age of 97. His full obituary can be read here.
Judge Bright Tribute Video

Judge Bright Memorial Service Video