Judge Ralph Erickson, Class of '84, nominated to 8th Circuit Court of Appeals
Original Article - Bismarck Tribune
By: Patrick Springer Forum News Service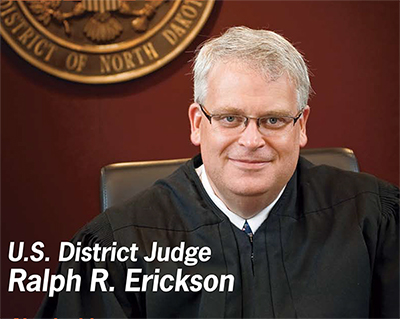 FARGO – Sen. John Hoeven, R-N.D., announced that President Donald Trump has nominated U.S. District Judge Ralph Erickson to a seat on the 8th U.S. Circuit Court of Appeals.
Erickson was nominated by President George W. Bush in 2003 to the U.S. District Court here, the trial court level in the federal judicial system. Erickson previously served as a state district judge for the East Central Judicial District in Cass County.
"Judge Erickson has served the people of North Dakota and the United States well on the U.S. District Court and I support his nomination to serve on the 8th Circuit Court of Appeals," Hoeven said in a statement Wednesday. "Throughout his career, he has upheld the rule of law and shown deep respect for the Constitution. We look forward to moving his nomination through the Senate."
Erickson is a graduate of Jamestown College and the University of North Dakota School of Law. He practiced law in West Fargo from 1984 to 1994 before beginning his judicial career.
"I am extremely grateful to have had the opportunity to serve the people of the United States, and particularly North Dakota, as a judge over the past 23 years," Erickson said in a statement. "I am humbled and honored by the confidence that President Donald J. Trump has shown in me and if confirmed I will do my utmost to faithfully perform my duties as an appellate judge."
Sen. Heidi Heitkamp, D-N.D., who is a former North Dakota attorney general, also expressed support for Erickson's nomination.
"Judge Erickson has proven through his decades of experience, record of impartiality, and devotion to his work that he is a judicious and thoughtful lawyer who continues to follow the rule of law," she said in a statement. "I have known Judge Erickson for many years and he has a reputation for fairness and independence, and is highly respected by members of the North Dakota bar – and I look forward to supporting his nomination in the U.S. Senate."
If confirmed, Erickson would fill a vacancy left by the retirement of Circuit Judge Kermit Bye, who retired in September 2016 after taking senior status, or semi-retirement, in April 2015. Bye was nominated in 1999 by President Clinton.
President Obama nominated Jennifer Klemetsrud Puhl, an assistant U.S. attorney in Fargo, to fill Bye's vacancy on Jan. 28, 2016. Although Klemetsrud Puhl was unanimously approved by the Senate Judiciary Committee, and had the backing of Hoeven and Heitkamp, the Republican leaders controlling the U.S. Senate never gave Klemetsrud Puhl a floor vote, dooming her nomination.
Carl Tobias, a law professor at the University of Richmond in Virginia who tracks federal judicial appointments, said Erickson is a solid nominee to the appeals court.
"Chief Judge Erickson has lengthy judicial experience in the state and federal court systems, while he enjoys a reputation for being a fair, mainstream jurist who possesses great judicial temperament," Tobias said.
Erickson should win confirmation, he said, although it might take awhile in light of a backlog of circuit nominees in line ahead of him.
"It is unfortunate that the Senate did not confirm Jennifer Klemetsrud Puhl last year because she was an excellent nominee," Tobias said.
Related Links:
White House announcement of judicial candidate nominations
Senator Hoeven's statement on nomination of Erickson