Focus on the UND Law Family: Stephen Williamson, '19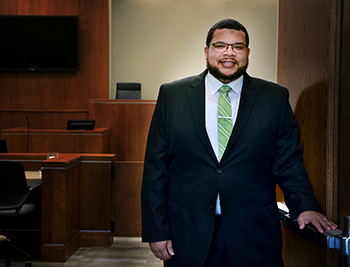 Stephen Williamson is a member of the Class of 2019 and will begin his second year in the fall. He is originally from San Diego, but as a member of the Air Force from 2006-2010, he has lived in San Antonio, New Jersey, and ultimately ended up in Minot. North Dakota. This fall, he will serve as the Black Law Student Association (BLSA) President, was elected to UND's University Senate and will participate in the Innocence Project with Professor Steven Morrison.
Why are you interested in earning a law degree? My first exposure to law was through a television show my dad watched that featured a trial lawyer. Then, while completing my undergraduate degree in History and specifically African American History studies, I learned how the laws have either moved forward or stayed still with time. I guess inequality and justice really is what got me involved. Instead of trying to throw stones from the outside, I wanted to try to fix the system from within by earning a law degree.
Are there any advantages you see in attending UND Law? After going through that first year of law school, I feel the professors are amazing—the caliber, intelligence and interaction. At UND you get organic relationships with professors that help build you into a lawyer and help you get practice ready. I feel like we can learn, and if you have questions, everyone is open to answering those and helping you succeed.
You made it through your first year – tell us about it? My favorite 1L memory was becoming president of BALSA after my first year. By working hard and caring about the issues, it is nice that people see you as a leader and an advocate for the group. My toughest experience was time management between extracurricular activities, school, family and personal life and realizing procrastination is your worst enemy. My first semester was the toughest because there are so many unknown variables. For me I went back and looked at what I could do to make myself more successful. If you have adversity it is better to meet it head on and overcome it.
What advice do you have for new first-year law students? Be able to not take things personally. The feedback you receive is not personal; it is all business. What they are trying to tell you when you get poor feedback is this is where you can get stronger. All the critiques are there to help you. The earlier you can do that the better you are going to be in law school. In addition, reputation is important. You build your brand from the first day you walk in here. You can ruin it quickly or you can build it over a period of time, but it is up to you to do it.
What are your plans for summer? This summer I will be doing an externship in Minot, ND for Legal Services of North Dakota working in the area of housing discrimination. It will be a great experience and hopefully will be something that will help me reach my ultimate goal.
What is your plan for after law school? I want to practice in North Dakota and social justice is something that beats inside me. I really see myself doing criminal defense to stick up for people who have been exploited. In the grand scheme of things, to put a check on the system and make sure the state proves their burden.
How about life outside of law school? I am a big family man and kind of a homebody. Spending time with my wife and my daughter, who will be six in September, is what I like to do to get away. Family time to me is eating dinner, watching family movies together or going to the Greenway for a walk. I like to be able to decompress and relax with them.
Tell us a "fun fact" about you? For me it is fishing, but it seems like everybody in North Dakota goes fishing so that is not unique. What people don't know about me is I am a big early country music fan. Early 90's stuff like Tim McGraw, Alan Jackson, Brooks and Dunn but I am eclectic when it comes to music. I like to listen to everything.