Focus on the UND Law Family: Professor Grant Christensen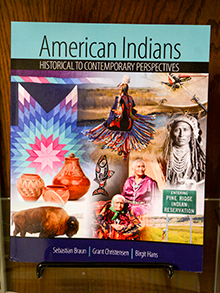 Associate Professor of Law at the University of North Dakota School of Law, Grant Christensen recently co-authored the book, American Indians: Historical to Contemporary Perspectives, alongside Professor of American Indian Studies at UND, Birgit Hans and Director of American Indian Studies at Iowa State, Sebastian Braun.
The textbook is designed as an Introduction to Indian Studies for undergraduate students. The book is divided into three parts. The first introduces students to key concepts in Indian Studies including sovereignty, membership, and the federal government's trust responsibility. The second section provides an in depth look at issues involving Indian country including environmental protection, Indian schools, tribal self-government, and Indian attitudes toward health, healing, and wellness. The final section provides case studies including a survey of the Treaties and Agreements made with the Great Sioux Nation and the modern day implications of the Indian Child Welfare Act. The authors made it a goal to combine each author's perspective to bring an undergraduate student a holistic understanding of Indian country: what it is like to be in Indian country, what it is like working with tribes, and what it is like being on a reservation.
Christensen said he became interested in Indian Law through the debate team in college. He attended college at the University of Richmond with a small enrollment rate of, at the time, about 3,000 students. Christensen joined the policy debate team during his freshman year.
"I figured all of my friends in high school were as a result of debate so I joined the debate team," said Christensen.
Christensen explained that there is one subject that the whole country debates all year. In a college policy debate competition, two-person teams speak both for and against the proposition of the year in alternating matches. The students will also cross-examine, trying to undermine each other's arguments, and then sum up their positions with closing rebuttals. The proposition his freshman year of college was Resolved: The United States federal government should substantially increase federal control throughout Indian Country in one or more of the following areas: child welfare, criminal justice, employment, environmental protection, gaming, resource management, taxation.
"In debate, the more research you do, the better you get. So, the more I read about Indian Law, the more I got interested in it," said Christensen.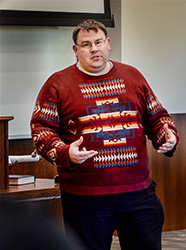 Originally from Sylvania Township, Ohio, Christensen earned a B.A. in American Studies with a focus on Indian Studies from the University of Richmond. After his undergraduate degree, he attained his J.D. from the Ohio State University College of Law in 2006. He then went on to earn an LL.M. in Indigenous Peoples Law and Policy from the University of Arizona College of Law in 2010. In the 2011-2012 term, The U.S. State Department awarded Christensen a Fulbright research grant.
"I did a year of research in Vilnius, Lithuania. My project there was working with Indigenous Peoples and treaty rights. I spent the year studying if there was a way to bring back a process working with rightsizing treaties between the Baltic States that could apply to Indian Law," said Christensen. "That was a really wonderful and rewarding year."
Christensen is in his third year at the UND School of Law. Before becoming a law professor, Christensen worked at Target Corporation in Minneapolis, Minnesota and with the mid-sized law firm of Marshall & Melhorn. Prior to coming to UND, Christensen was an Assistant Professor at the Charlotte School of Law and a visiting professor at the University of Oregon School of Law.
Christensen claims he also moonlights as a part-time comedian. "I tell the best jokes, you should know that," said Christensen. "How many tickles does it take to make an octopus laugh? Ten tickles!"
by: Jennie Cinelli