Kopp and Haller win 2017 moot court competition
The fall internal moot court competition was held on November 1, 2017 in the Baker Courtroom at the UND School of Law. We had the pleasure of having the final round judged by the North Dakota Supreme Court as part of their two-day visit to the law school. Second-year students Matt Kopp and Corey Haller defeated second-year students Peter Aiello and Erica Reeve to claim the championship. Other award winners include:
Best Brief Petitioner - Kat DelZappo & Chris Cerney
Best Brief Respondent - Matt Kopp & Corey Haller
Best Oralist Preliminary Round Petitioner - Kat Sand
Best Oralist Preliminary Round Respondent - Ian Duncan
Best Oralist Final Round - Matt Kopp
Original Story in UND Today - Making the Case
by: Jan Orvik
For two days last week, the UND Law School was the "bench" of the North Dakota Supreme Court.
Law students had extraordinary access to Supreme Court justices, said Kathryn Rand.
"We are the Supreme Court courtroom for two days," said Rand, dean of the law school. "The justices maximize time with the students. They hold court sessions, have lunch with the students, visit classes, and give guest lectures. Their goal is to be as involved as they can while they're here."
The five justices, four of whom are UND Law graduates, heard cases, interacted with students and faculty, and judged UND's moot court finals. They've done this nearly every year since 1978.
"This is our law school," said Gerald VandeWalle, chief justice and a UND alumnus. "Most of us graduated from here, and we want to help students be good lawyers. I enjoy interacting with the students."
In addition, the students heard four cases argued before the Supreme Court. This year, they involved drugs and contraband, a civil case, a property division case, and a property case.
"It's unusual to have the state Supreme Court not only hold hearings at a law school but to have such an intensive schedule of student-centered events during their visit," said Rand. "We are extremely fortunate, and very grateful. The court is investing time and resources because they see the value of this visit. It's a logistical feat for them to come here. The attorneys arguing the cases travel here too, and Penny Miller, the clerk of court, ensures they hear a variety of cases: family, property and criminal law. This is a good mix of cases, and these are good attorneys for the students to see."
Moot court
The highlight of the Supreme Court visit is the moot court finals, judged by the justices.
Moot courts, which have been around since the late 1700s, offer law students the opportunity to prepare for and argue cases before a panel of judges.
The competition was organized by a six-person board of UND law students led by Terry Effertz, a third-year law student.
"Moot court is an important part of the law school experience that emphasizes advocacy and teamwork," said Effertz. "I had a great experience last year, and wanted the next class to have as good an experience or better."
Effertz and other members of the Moot Court Board scored briefs, conducted classes, fielded questions, organized sponsor lunches, and convinced 45 lawyers to judge the preliminary rounds of the competition.
The competition culminated in the moot court finals, and the Supreme Court justices prepared just as they would for a real case, said Rand.
"They provide really good feedback – they critique each student's argument and show students how they can do better," Rand said. "Students in the audience get to hear that, too."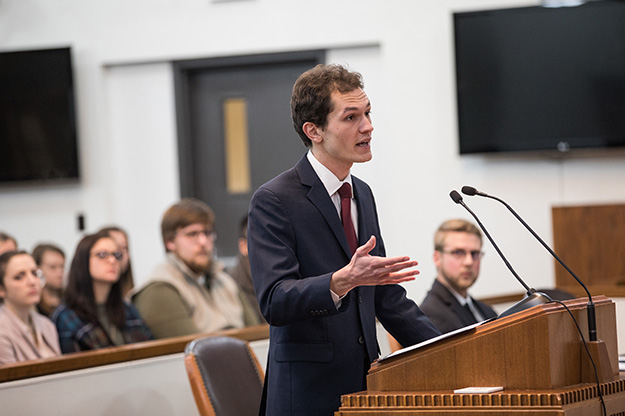 'Hot bench'
The North Dakota Supreme Court is known as a "hot bench," or active bench, said Rand.
"They ask a lot of questions, and don't passively listen to arguments. They ask hard questions."
Students found that out firsthand Wednesday afternoon. Two teams, whittled down from 19, presented opposing sides in a case about property and privacy rights.
Each student had 15 minutes to present his or her argument. They had to think on their feet as the justices interrupted, peppered the students with questions about case law, and rebutted their arguments.
Sometimes those 15 minutes felt like an eternity as the students responded to pointed questions that were designed to keep them off balance.
First place
Matt Kopp and Corey Haller kept their cool, taking first place against Peter Aiello and Erica Reeve. All are second-year law students.
"This was a great night," said Kopp, former UND student body president from Jamestown, N.D., who estimated he and Haller spent around 100 hours researching the case, writing briefs, and practicing oral arguments. "It was a team effort, and we worked really hard to show the justices what we're capable of doing. This is an awesome opportunity to appear in front of lawyers and judges, especially members of the North Dakota Supreme Court. We will remember this throughout our careers."
"I'm so glad I did it," said Haller. "Practicing helped prepare for being under fire and facing difficult questions. Being able to interact with lawyers and judges is an invaluable experience."
"These students were good," said VandeWalle. "This is one of the best rounds we've seen."
"You are all very good, and have mastered the basics of oral advocacy," said Justice Jon Jensen to the competing students. "You stood your ground on difficult questions. I like people who are passionate about the issues."
Questions can come out of left field, said Justice Lisa Fair McEvers, who noted she took part in moot court competitions during law school. "We will throw you under the bus, and you crawled right out. You've been well-trained and kept your composure. We hope you'll one day appear in our court."