Focus on the UND Law Family: Matt Kopp, '19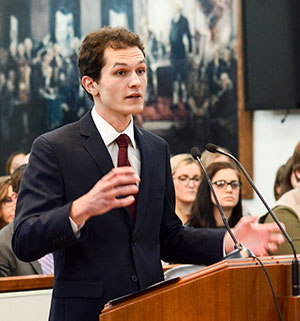 Matt Kopp, a Jamestown, North Dakota native, is a second-year law student. Matt recently completed an externship with the U.S Attorney's Office in Fargo and this summer will be working as a summer associate at Faegre Baker Daniels, the largest law firm in Minnesota.
Tell us about your externship with the U.S Attorney. - I was fortunate enough to be at the U.S Attorney's Office in Fargo, so I worked on a variety of federal cases on both the civil and criminal side. The thing that stuck out to me about the experience is how invested the attorneys were in my future success. They are the ones that encouraged me to reach out to firms in Minneapolis and helped me send out my resume to partners they knew in those firms. My job this summer really is a direct result of my externship experience.
Tell us about your opportunity in Minneapolis this summer. - I will be working for Faegre Baker Daniels in Minneapolis as part of their summer associate program. I will be rotating through multiple practice groups, both on the litigation and transactional sides of the firm, to get some raw exposure to a lot of different areas of practice. I'm excited to learn from the outstanding attorneys at Faegre and to work with other law students from around the country.
You were on the winning team for moot court, tell me about your experience. - Moot court was an awesome experience. It was a lot of time commitment and preparation, but in the end, it was definitely worth it. To be able to argue in front of the state supreme court is a pretty fantastic opportunity, and one that not a lot of schools get. Getting to interact with other lawyers and judges from around the community was also great. Thinking about legal problems in different ways is another important part of the experience. Every time we did an argument I learned something new about the problem we were working on and that exposure will be invaluable in practice.
Why are you interested in Law? - Law was always an interest for me since I was a little kid. I've always been interested in history, politics and American government and that's what eventually lead me to law school.
What do you enjoy about UND's Law School? - The connections students can make with their professors is a big thing for me. There are a lot of schools where you just don't get much one-on-one interaction with professors. Here it has been fantastic to get to know them and to be able to see how sincerely they care about their students on an individual basis. Also the people – my classmates are awesome. They are great to work with, get along with and we have a good time.
What was the hardest part about your first year? - The hardest part about my first year of law school was adjusting to being in an academic setting again. My senior year of college I was fortunate enough to serve as student body president at UND. During that time I took a very light credit load to focus on student government to do the best job I could there. So, it was tough trying to get back to the grind of 15-16 credits per semester, and that took a little bit of an adjustment at the beginning for sure.
How about life outside of law school? - I'm married to a UND Physical Therapy Student, and we have a two-year-old son, Eliot, so we are definitely busy! Eliot is just a great kid and so much fun to be around, and Alison is an amazing parent, student, and wife. I'm grateful every day for them both.
by: Mark Polipnick