Small School Hosts Big Competition
UND School of Law to Host the Region 9 Rounds of the National Trial Competition
For the first time in its history, the University of North Dakota School of Law, together with the State Bar Association of North Dakota (SBAND), will host the regional rounds of the National Trial Competition on February 9-11, 2018 at the Cass County Courthouse in Fargo, N.D.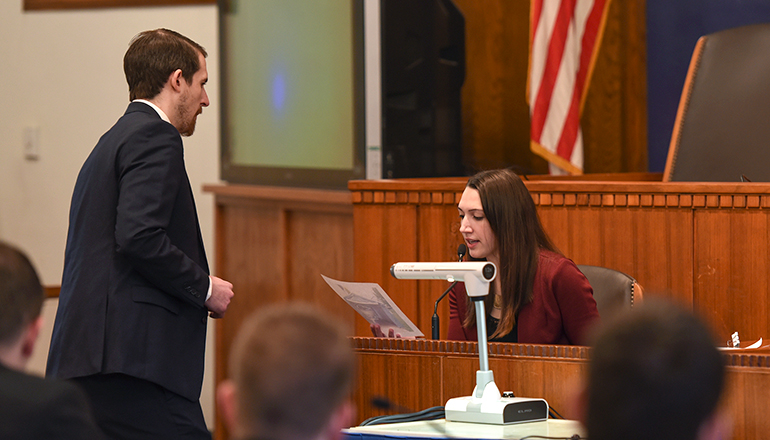 The Region 9 competition is made up of 12 schools from Iowa, Kansas, Minnesota, Nebraska, North Dakota, South Dakota and Wisconsin. Each school will bring two teams to compete, with the winner advancing to the national trial competition in Texas.
With University of North Dakota School of Law Professor Denitsa Mavrova Heinrich in charge of coaching UND Law's competing teams, Lori Conroy and Aubrey Zuger, both former UND Law trial team members, volunteered their time as co-directors to take on this huge organizational effort. "Each school is asked to be the host, and share that load. It is a huge undertaking, but it is important for North Dakota to pitch in and do that," said Conroy.
The first task was finding a location and coordinating the details that go with holding mock trials in a real courthouse. The competition requires a building large enough to hold 12 simultaneous trials, so the decision was made to hold it in the Cass County Courthouse in Fargo. The judges and county officials generously agreed.
"Presiding Judge Racek, County Administrator Robert Wilson and Clerk of Court Lindsey Scheel went to great efforts to help us secure sufficient courtrooms, line up court security, and assist with other administrative tasks for the competition," said Zuger. "Their assistance was critical and very much appreciated."
Logistically it is difficult for a state like North Dakota to host this event. "When you think about cities in Kansas, Nebraska or Minnesota and their large cities, they have much larger facilities and the ability to be the host. Our size poses some larger obstacles that must be crossed when hosting this competition, but we are excited to make it work," said Conroy.
More than 400 volunteers are needed to hold the competition. After finalizing a location, Professor Mavrova Heinrich, Conroy and Zuger focused recruitment efforts on securing approximately 170 judges. They contacted judges who serve on the Federal bench in North Dakota, the North Dakota Supreme Court, other state judges and members of the American College of Trial Lawyers to develop their pool of volunteers.
"For those final and semi-final rounds we want to have those who are at the highest level of our court, the most prominent attorneys, being the judges of those final rounds," said Conroy. They were successful in securing commitments from an Eighth Circuit judge, all the Federal judges in North Dakota and all members of the North Dakota Supreme Court for the final rounds.
"We are so grateful for the commitment by SBAND and the judges in our state to volunteer their time to make this competition a success," said UND Law Dean Kathryn Rand. "This is a wonderful opportunity to showcase UND School of Law and our bench and bar in North Dakota to the other law schools in the region."
Conroy and Zuger then turned their attention to finding an additional 250 volunteers to serve as witnesses and bailiffs. They first asked for help from three Fargo attorneys—Michael Sly from Ohnstad Twichell, and UND Law alumnae Sharon Thompson, from Circling Eagle Law and Mary Batcheller, a United States Bankruptcy Court Clerk. This team reached out to current law students at UND as well as undergraduate students from Concordia College, North Dakota State University and Moorhead State University and the larger Fargo-Moorhead community to find volunteers.
"We were looking for students who are willing to come in and have a little fun and play a character," said Conroy. "Volunteering as a witness will give some students exposure to a realistic trial setting, and for others, a really great experience practicing their trial advocacy."
The competition begins Friday evening at 5:00 p.m. The complete schedule of rounds is as follows:
(1) Friday, February 9, 2018: 5:00 p.m. – 9:00 p.m.
(2) Saturday, February 10, 2018: 8:30 a.m. – 12:30 p.m.
(3) Saturday, February 10, 2018: 12:30 p.m. – 4:30 p.m.
(4) Sunday, February 11, 2018: 8:00 a.m. – 4:00 p.m. (semi-finals and final round)
by: Mark Polipnick