Law School Receives UND Excellence in Service Award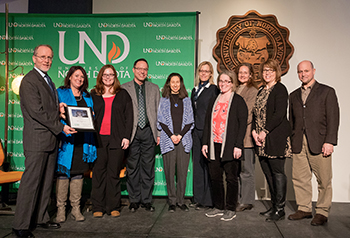 The University of North Dakota School of Law was honored to accept the Departmental Excellence in Service Award at the University's annual Founders Day celebration. The Departmental Excellence in Service Award honors an academic department that "makes a commitment to service as an important faculty role" and "collectively makes significant contributions in the area of academic citizenship, professional/disciplinary service, and service to the community."
"As the only law school in North Dakota, we take our individual and institutional service responsibilities very seriously," wrote Dean Kathryn Rand in a statement of support for the award. "We are modeling professional conduct for our students at the same time we are fulfilling our own professional responsibilities."
Law faculty, staff, and students dedicate remarkable time, energy, and enthusiasm to service at all levels – from leadership in national organizations to critical work at the law school and university. Every member of the School of Law faculty and many members of the staff have taken on leadership roles in major national and regional organizations. Due to their dedication, UND Law is represented in a significant way in several of the most high-impact national organizations devoted to law and/or legal education. This representation means that UND Law has a seat at the table in major national initiatives, from legal education reform to the design of new uniform laws.
In addition to Dean Rand's statement and a summary of departmental service-related work, the School of Law submitted three letters of support to the Outstanding Faculty Awards Committee, the University committee in charge of selecting award recipients. Letters were provided by North Dakota Supreme Court Chief Justice Gerald W. VandeWalle, President of the Greater Grand Forks Bar Association Ariana Meyers, and State Bar Association of North Dakota President Darcie M. Einarson.
"The State Bar Association values the School of Law's active engagement in helping us to serve the legal profession for the people of our state," wrote Einarson. "In fact, the collaboration between the State Bar Association and the School of Law is so important that there is a Joint Committee constituted of SBAND and law school members that meets twice a year…to discuss issues related to legal education and the legal profession."
Service is a significant responsibility for the School of Law and an integral part of our values and character. Given the small size of the School of Law's faculty and staff relative to other law schools, and given the extraordinary service demands as a professional school and the only law school in the state, the collective service of the School of Law truly is outstanding.