Second-year students Hannah Wegner and Alexa Pyette win 2018 Carrigan Cup trial competition
Following countless hours of preparation, three days of preliminary rounds, one snow day, and an intense final round, Hannah Wegner, '19 and Alexa Pyette, '19 were named the 2018 Carrigan Cup champions.
The Carrigan Cup is an annual mock trial competition at UND School of Law, hosted by the Moot Court Association. The competition is named for U.S. District Court Judge Jim Carrigan, a 1953 graduate of UND School of Law. Teams, consisting of second and third-year students, compete in a three-day tournament-style contest overseen by local attorneys and judges. The coveted final round is always an exciting event at the law school eagerly awaited by many.
Judges for the final round of competition were Eighth Circuit Court of Appeals Judge Ralph Erickson, presiding, United States District Court Magistrate Judge Alice Senechal, and District Judge Jay Knudson. "Having Judge Erickson here gives our students unparalleled access to a sitting federal judge," said Terry Effertz, President of the UND Law Moot Court Association.
The problem, State of Lone Star v. John Quincy Drath, was a criminal murder case. The defendant, John Drath, is a father accused of killing his 17-year old daughter's boyfriend after he discovered their relationship. The defense asserts an insanity plea for Drath, trying to prove he was not in control of his actions at the time of the murder. Wegner and Pyette argued on behalf of the state while Maggie Spezzano, '18 and Victoria Konidaris, '18 argued for the defense.
"We look forward to the Carrigan Cup continuing for many years, and as opportunities for mock trial practice continue to grow, the Board hopes that Carrigan Cup can evolve to fit the needs of our student body," said Effertz.
Complete list of 2018 Carrigan Cup Winners: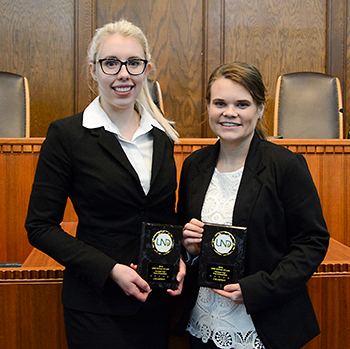 2018 Carrigan Cup Champions:
Hannah Wegner, '19 &
Alexa Pyette, '19
Runners Up:
Victoria Konidaris, '18 &
Maggie Spezzano, '18
Best Defense:
Erica Prefontaine Dean, '18 &
Lauren Milne, '18
Best Prosecution:
Stephen Williamson, '19 &
Adam Richard, '19
Best Advocate:
Cole Johnston, '19