2018 UND Law Homecoming CLE
The UND School of Law Homecoming CLE will be held on Friday, September 21, 2018 at the School of Law Baker Courtroom. There will be a morning session beginning at 9:30 a.m. and an afternoon session beginning at 1:30 p.m. There is no cost to attend either session.
Morning session approved for 1.5 ND CLE credits, 1.5 ND CJE credits, Minnesota CLE pending
Afternoon session approved for 3.0 ND CLE credits, 3 ND CJE credits, Minnesota CLE pending
You are also welcome to attend a celebration of Professor Patti Alleva's career between the two sessions. A "Reflections" presentation by Professor Patti Alleva will begin at 11:15 a.m. (no CLE credit) and then join us for a special luncheon/reception immediately following.
We have arranged free parking available on campus near the law school for the CLE. We have identified two spots. Please note the dates and times for each location.

Map for parking 9/20/18: 11:45 am - 1:45 pm & 9/21/18: 8:00 am - 8:00 pm (east of parking ramp)

See the information below for details and to sign up to attend.
Program Details
Morning Session

9:30 - 11:00 a.m.
Jury Trials from the Judge's Perspective - featuring Justice Lisa Fair McEvers and Justice Jon J. Jensen - North Dakota Supreme Court
This 90-minute program will provide insight and information on several aspects of jury trials from the perspective of two North Dakota Supreme Court Justices who previously served as state district court judges. Presenters will discuss topics including jury service and selection, motions for mistrial, and preserving issues for appeal.

Afternoon Session
1:30 - 4:30 p.m.
The Fair Housing Act - The Hidden History, Unintended Consequences, and Lasting Effects of Fair Housing Laws in North Dakota and Beyond- featuring Christopher Brancart and presented by High Plains Fair Housing Center and sponsored by HUD.
Speaker Information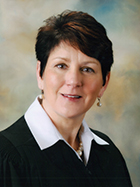 Justice Lisa Fair McEvers - A native of Minto, North Dakota, Justice McEvers earned a Bachelor's of Business Administration degree in Information Management from the University of North Dakota in 1993 and a Juris Doctor degree from the University of North Dakota School of Law in 1997. After law school, Justice McEvers served as a law clerk to the North Dakota Supreme Court during the 1997-1998 term, then maintained a private law practice until 2001, when she became an Assistant State's Attorney for Cass County, North Dakota. Governor John Hoeven appointed Justice McEvers as North Dakota Commissioner of Labor in 2005. Justice McEvers began her judicial service in 2010, when Governor Hoeven appointed her as District Judge for North Dakota's East Central Judicial District. She was elected to that district judgeship in 2012. Justice McEvers' service on the North Dakota Supreme Court began effective January 1, 2014, after her appointment by Governor Jack Dalrymple to fill the vacancy created by the retirement of Justice Mary Muehlen Maring. Justice McEvers was elected to the North Dakota Supreme Court in 2016. Justice McEvers has a long history of service to North Dakota's legal community, including service on the Judicial Education Commission, the Judiciary Standards Committee, the State Bar Association of North Dakota's Committee for Continuing Legal Education, the Rough Rider Industries Prison Advisory Board, the Pattern Jury Instruction Commission, the Juvenile Drug Court Advisory Committee, and the Personnel Policy Board. Justice McEvers currently chairs the Juvenile Policy Board and the Joint Procedure Committee. She is a member of the North Dakota Dual Status Youth Initiative Group, the Executive Committee of Judicial Conference, Alternatives to Incarceration Interim Legislative Committee, the United Tribes Criminal Justice Advisory Board, the Court Technology Committee's File and Serve User Group, the Human Trafficking Commission, and the North Dakota Judges Association.

Justice Jon J. Jensen - Justice Jensen graduated with a B.S. in Accounting from Minnesota State University Mankato in 1987 and continues to be licensed as a Certified Public Accountant. He graduated from the University of North Dakota School of Law in 1990. Justice Jensen was in practice in Grand Forks from 1991 until 2013 focused on litigation including criminal and civil tax litigation. In 2000 and 2001 he took a leave of absence from private practice to work as tax counsel for Northwest Airlines. In 2013, Justice Jensen was appointed to serve as a District Judge by Governor Jack Dalrymple, and was elected to that judgeship in 2016. Effective August 15, 2017, Justice Jensen was appointed by Governor Doug Burgum to the North Dakota Supreme Court to fill the vacancy created by Justice Carol Ronning Kapsner's retirement. Justice Jensen's teaching experience includes serving as an adjunct faculty member in Trial Advocacy and as a frequent guest lecturer in taxation at the UND School of Law. He has also taught at the North Dakota Tax Practitioners' Institute, the North Dakota Law Enforcement Training Academy, and presented at many continuing education courses. He has published five law review articles, two of which were republished in peer review journals. He was the original author and subsequent editor of the North Dakota Chapter of the ABA Property Tax Handbook. He has served on the Caseflow Management Committee, Court Services Administration Committee, Juvenile Drug Court Advisory Committee, North Dakota CPA Taxation Committee, ABA Real Property Taxation Section, ABA Civil and Criminal Tax Penalties Section and the North Dakota State Bar Association Taxation Section.
Christopher Brancart - Christopher Brancart is a partner in Brancart & Brancart, a law firm located in Pescadero, California, specializing in federal fair housing litigation. Chris graduated with honors from the University of Texas-School of Law in 1985. Following law school, he clerked for the Honorable Vincent McKusick, Chief Justice of Maine, and then taught appellate advocacy and administrative law at Western State University College of Law. From 1987 to 1989, he worked as a staff and then supervising attorney at the Legal Services Program in Pomona, California. Since entering private practice in 1989, Chris has represented plaintiffs in several leading fair housing cases and trained fair housing attorneys and advocates throughout the country.