Arizona Summit Students Transfer to UND Law
UND law school welcomes in Arizona Summit transfer students with open arms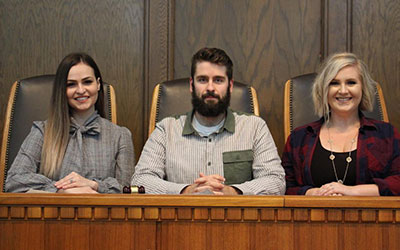 Despite a few stumbling blocks, a group of UND law school transfers have found their place at UND.
The UND School of Law recently took in about 25 transfer students from Arizona Summit after the American Bar Association pulled the private law school's accreditation. That decision, which is being appealed by Arizona Summit, means the school cannot accept new students and students who were at the school had to find an alternative to finish their degrees and take the Bar exam.
Many of the students transferred to UND just a month before classes started.
One transfer, Morgan Cosgrove, first interacted with UND's law school earlier last year at a conference in Los Angeles. Cosgrove said thousands of students at the conference were lined up to talk to schools like Georgetown and other big law schools. But she started chatting with Rob Carolin, director of public relations at UND's law school, and said she enjoyed the conversation.
When Arizona Summit lost its accreditation in June, one of Cosgrove's first thoughts was to reach out to UND. From the beginning, she said she felt welcome and that the school actually cared about her as a person.
"Just coming up here and having someone say 'You know what, you might not be coming from the best experience, and obviously things have been going on, but we see something in you,'" she said. "Everyone was just so nice."
Rebekah Burz, another transfer from Arizona Summit, said that while she and Cosgrove did look at other schools, a big reason they decided to come to UND was the school's decision to take in all of their credits. Burz said a lot of schools only take 45 credits or only someone's first year, which would have meant retaking many classes.
"It would have been a lot of wasted money, wasted time," she said. "Then North Dakota said they would take all of our credits, so that was a huge thing, so why wouldn't we come here?"
Cosgrove and Burz were accepted to UND in July and drove up two and half weeks later.
Ryan Rehberg, an Arizona Summit transfer who has been at UND about a year, first came up to North Dakota after Arizona Summit went on probation in 2017. Rehberg said UND was one of a few schools that actually gave him an opportunity.
Rehberg said when he transferred to UND, everyone was very helpful and accomodating.
"They cared about the whole person, making sure I was set up good," he said.
Over the summer, Rehberg said students from Arizona Summit started reaching out to him to ask him what UND was like and what opportunities were available to them.
"I was just honest and said 'It's changed my life,'" he said. "I don't say that lightly, it's measurable. If you look at my first year and half, compared to here, it's completely different. There are so many more opportunities and I would tell (students) that."
Cosgrove said professors hand out their cell phone numbers in case anyone gets stuck in the snow during the winter, something she and Burz were worried about. Gestures like that have helped calm their worries about living in a new place, she said.
"The professors have been so wonderful," Cosgrove said. "I don't really feel like we're outsiders; everyone has really taken us in."
Brad Parrish, assistant dean of student life, said being open and accommodating is just a part the character of who they are. Parrish, who also attended UND's law school, said he knows how stressful the first week and first semester of classes can be, so faculty and staff try to do what they can to alleviate that stress.
"We advertise ourselves as one of the smaller public law schools, that means something to us," he said. "We want students to feel like individuals, not as numbers. We want them to feel supported and that they have resources when they start to struggle."
Original Story from Grand Forks Herald - Written By: Sydney Mook | Sep 2nd 2018