Focus on the UND Law family: Nicholas Samuelson, '19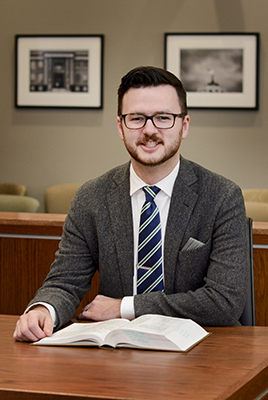 Nicholas Samuelson, a Fargo, North Dakota native and third-year student, has had the unique experience of arguing four cases in front of the North Dakota Supreme Court through his internship and externship experience. Next August, after graduation, he will be joining them as a law clerk for the Supreme Court.
Tell us about your arguments at the ND Supreme Court?
I worked at the Cass County State's Attorney Office in Fargo, N.D. as a paid intern in the summer and fall of 2018, and now I'm working there through the externship program at UND. I argued once in the summer, twice during the fall semester, and once more over winter break. All of the cases I've argued have all been criminal cases, but were very different from each other. The first one was an ineffective assistance of counsel case. It was interesting because the appellant waived argument so it was just me up there. I think that made me even more nervous. I swear on the audio recording you can hear me sweating... I was so nervous. The second one was a direct appeal from a criminal conviction. The third case was an interesting post-conviction relief, ineffective assistance of counsel where the appellant filed his appeal from Federal Immigration Detention. The fourth was a trial I watched while I was job shadowing an assistant states attorney last year. I went down to Fargo to watch the trial and then a few months later, when I was working at the State's Attorney Office, I got assigned to the appeal. Each time I have appeared in front of the court, I have been a little more comfortable.
How did you feel going into the arguments and how did they go?
I felt good going in and then as the arguments proceeded, I felt less confident about it because they press you with questions. And that's the hardest thing to prepare for… what are they going to ask. This fourth time, one of the attorneys in my office listened to the live stream and he said "Wow! They took the kid gloves off this time.
What are your plans after you graduate?
I will be clerking for the North Dakota Supreme Court from August to July of 2020. And then after that, I'm hoping to find a job as a State Prosecutor here in North Dakota, hopefully in Cass County. I just adore everyone in my office; it's such a great work family.
Do you have any advice for new law students?
My biggest piece of advice is to stick it out, even if things don't go your way right away. I think the hardest part was that they are not kidding when they say you're drinking from a fire hose the first year; it's just a lot of new information and then trying to make sense of all of it… it's just a whole different world. My first year, I struggled a little bit, but I made it here. I absolutely felt more comfortable the second and third semesters. Law school is the hardest thing I've ever done, but it's also the most worthwhile thing I've ever done.
Do you have a fun fact about yourself you would like to share with us?
For a few years back in undergrad, I used to play in a bar band called Mix Theory. We had a rotating cast of members, so there were usually 3-5 of us. We played in Fargo, Jamestown, Enderlin and around eastern North Dakota. We played a little bit of everything from the 80s and 90s... Prince, Billy Joel, Alan Jackson. The kinds of songs that you'd expect to hear in a bar. I played guitar and keyboard and sang backup.
by: Michelle Schumacher