UND Law Wins Championship at Regional Trial Competition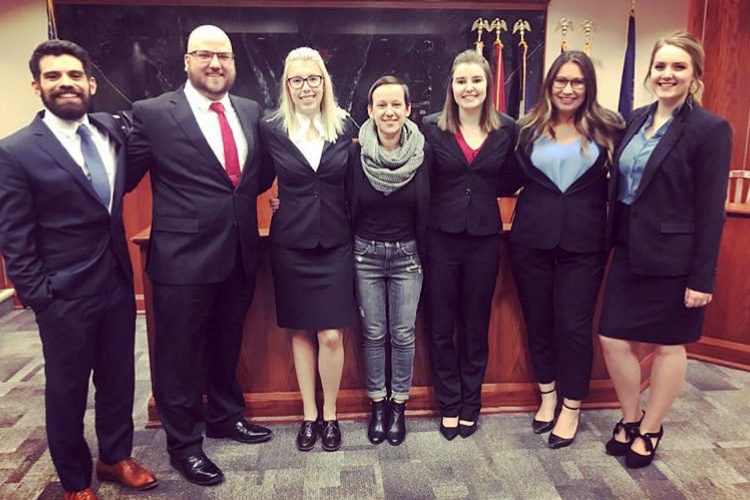 This past weekend, the UND Law Trial Team of Emily Christensen, Montana Funk, and Erica Skogen emerged the overall winner of the National Trial Competition for Region 12 held in Lincoln, Nebraska. The team now advances to nationals in San Antonio, Texas, beginning March 27, to be one of 30 law school teams from around the United States to compete for the title of national champions.
The UND Law Trial Team reclaimed the regional championship for the first time since 2009 by defeating Mitchell Hamline Law School in the semifinal round and then the University of South Dakota School of Law in the finals.
Both UND Law teams went undefeated in the preliminary rounds and advanced to the semifinal rounds of the competition. In the second semifinal round, the other UND Law team of Peter Aiello, Eric Koppy, and Hannah Wegner faced the University of Iowa College of Law. It was an outstanding trial performance by both teams, but the UND Law team lost the semifinal round by a single point—275 to 276 in judges' points and 2 to 1 in judges' ballots. The University of Iowa College of Law also advanced to the national competition.
"The students worked tirelessly for over two months to prepare for the competition," said UND Trial Team Coach, Professor Denitsa Mavrova Heinrich. "They spent countless hours working on and practicing their opening statements, examinations, and closing arguments. They conducted evidentiary research, argued motions in limine, and made and responded to objections. And they did it all with a positive attitude. At the competition, the students were consistently praised for their mastery of trial techniques, their excellent command of the case, and their professionalism and poise in the courtroom."
The success of UND School of Law's Trial Team is reflective of the tremendous support the bench and bar show for UND's trial advocacy program. "Each year, we are humbled by the generosity of so many attorneys and judges, who offer their time to share their expertise, energy, and experience with our students," said Mavrova Heinrich.
For this competition season, the team extends a special "Thank You" to the following individuals for being mentors, critics, and cheerleaders along the way: The Honorable Cherie Clark, the Honorable Donald Hager, the Honorable James Hovey, the Honorable Alice Senechal, Jessica Ahrendt, Beth Alvine, Jenna Bergman, Brittney Blake, Patricia Castro, Lori Conroy, Dane DeKrey, Brandt Doerr, Rhionnon Gorham, Tracy Hines, Cecilia Knapp, Kyle Markwardt, Jake Rodenbiker, and Peter Zuger. "Our deep gratitude also goes out to Professor Michael McGinniss for his invaluable advice on the evidentiary matters involved in the case and to the Honorable Michelle Lawson, Alex Stock, and the entire Clay County Courthouse staff for once again opening the doors of the courthouse for our weekend practices," said Mavrova Heinrich. "The success of the UND Law teams could not have happened without their dedicated and generous support!"