Black Law Students Association Celebrates Tenth Anniversary at UND Law
The Black Law Students Association (BLSA) is celebrating its tenth anniversary as a student organization at the UND School of Law. The organization has realized growth and success through the years, including being named one of three finalists for UND's outstanding student organization last year.
BLSA is an affiliate of the National BLSA which has around 200 chapters across the country. "The mission of BLSA is to increase the number of culturally responsible black and minority attorneys who excel academically, succeed professionally and positively impact the community," said vice president Melissa Cosby. "The purpose of this organization is to articulate and promote the needs and goals of black law students, and effectuate change in the legal community by encouraging black law students to pursue careers in the judiciary."
President Stephen Williamson explained that due to the historically low numbers of black lawyers in America, the BLSA Organization was founded to help black attorneys network in law school and to help provide black lawyers within a profession that is predominantly white. In addition it strives to provide opportunities to develop leadership skills, provide networking opportunities, and spur the hope to find a job and impact the community where you work.
The main things that BLSA hopes to accomplish is being up front on a lot of the different racial issues. Williamson said that as president, he usually likes to see something different each year. One of their main goals is to look at equality and justice within the law school, and reaching out to the undergrads in the community. BLSA secretary Cassandre Saintilus said this organization is a way to help unify with other students, and network with lawyers in the state.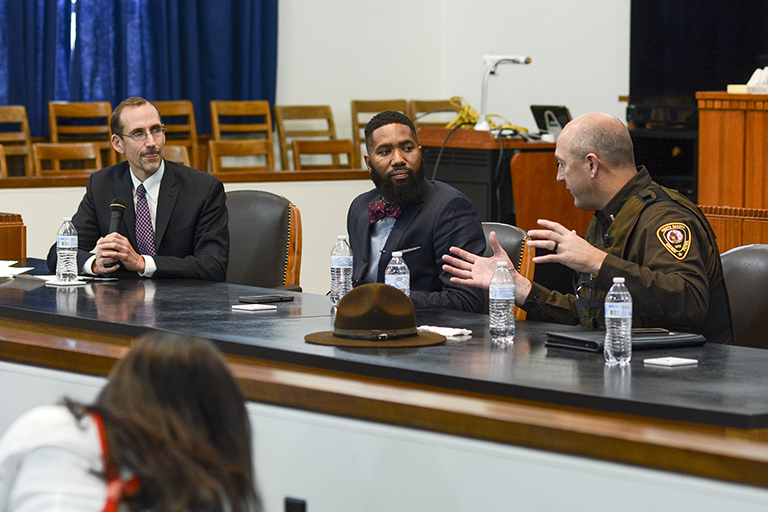 BLSA puts a special emphasis on events each year during Black History Month. This year, they hosted criminal defense attorney Marquis Bradshaw, from Fargo, for a lecture on Implicit Bias training. In February, there is a display near the library to showcase the accomplishments of many African Americans throughout history. Also, the organization recognizes an African American figure on the television monitors located in the law school each day in February. BLSA will wrap up their events in February with a special tenth anniversary social. Earlier in the year, BLSA hosted the second annual "Know Your Rights" session which included a panel discussion with a public defender, a professor and highway patrol officer. Another event in the fall featured Dr. John Choi, the prosecutor in the Philando Castile case, who lead a discussion about race and the criminal justice system.
"I would recommend this organization to other students. Everyone who is an ally/and or supports the black community are welcomed to join our organization. It's a great way to learn about diversity and open dialogue and learn about black culture," said Cosby. "Personally, as someone who is a black law student out here, when I've done internships out in New York, a lot of the judges have been fascinated with the University of North Dakota School of Law."
"I think that this organization is wonderful. I'm glad I had an opportunity to make a difference and raise awareness at UND Law," Saintilus said. "I hope the things we did effectuate a change. I want people to know that BLSA is an esteemed organization, and that the events we put on, the mission statement, are all beneficial to the entire student body of any law school."
Williamson has learned a lot in this organization, and he encourages others to get involved. His involvement in BLSA has been a way to interact with a lot of people and try to get the message of equality and justice out to everyone. "For me personally I've met some great attorneys. I think it's helped me network within the state. I think the leadership skills it's given me have really helped. I have seen it in applying for internships and externships that leadership and being president of BLSA has opened doors for me just to show that I'm willing to take on the task to do things."
For more information about BLSA, check out their UND School of Law website - https://law.und.edu/students/student-life/organizations/blsa/index.html or contact president Stephen Williamson at stephen.williamson@und.edu

by: Andrew Truckenmiller