Rodney & Betty Webb Professorship
Denitsa Mavrova Heinrich Named Webb Professor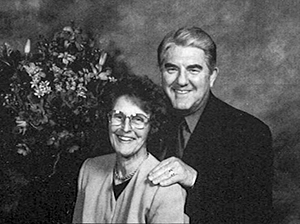 Assistant Professor Denitsa Mavrova Heinrich has been named the Rodney & Betty Webb Professor at the University of North Dakota School of Law.
"I am so grateful and am deeply humbled to have been selected to uphold the legacy of the Webb Professorship," said Professor Mavrova Heinrich. "I understand with this great honor comes great responsibility, and I promise to carry the designation with the respect, integrity, and dignity it deserves."
Professor Mavrova Heinrich is a 2010 alumna of the UND School of Law, graduating at the top of her class and honored with induction as a member of the Order of the Coif and the Order of Barristers. After law school, she served as the judicial law clerk for Justice Mary Muehlen Maring of the North Dakota Supreme Court, and then as a judicial law clerk to the Honorable Kermit E. Bye of the United States Court of Appeals for the Eighth Circuit. She taught as a Faculty Fellow at UND Law prior to serving for two years as an Assistant Professor of Law at Barry University Dwayne O. Andreas School of Law in Orlando, Florida. She returned to the UND Law faculty as a tenure-track Assistant Professor of Law in 2016. She currently serves as the Director of Lawyering Skills & Trial Advocacy Programs and has led the UND Law Trial Team to great success in its regional and national competitions.
"In selecting Professor Mavrova Heinrich for this honored distinction, I was very impressed with her combination of excellence in teaching and dedication to student learning and success, her skill and achievements in leadership with our trial advocacy programs, and her commitment to service in the North Dakota legal community," said Dean Michael McGinniss. "These attributes make her a very worthy bearer of a title respecting Judge Webb's legacy as an outstanding federal trial judge, and represents both the Judge and Betty's extraordinary commitment to service."
Professor Mavrova Heinrich is the third Webb Professor since the establishment of the endowment. Professor Michael J. Ahlen was the inaugural Webb Professor and held the title from its establishment to 2000. Professor Patti Alleva held the distinction of Rodney & Betty Webb Professor from 2001 through her retirement after the 2018-2019 school year.

In a tribute to Judge Webb, published after his death in 2009, Professor Alleva wrote, "The Judge truly valued intellectual exchange and exploration, and correspondingly, the vital link between a searching legal education and a just society. And so he never tired of giving his time, his insights, and his energy to the students, providing them with a unique window of understanding about what it meant to be a good trial lawyer or what it was like to be a federal judge. I am grateful to have known this unique man, and privileged to have had his and Betty's generous support of my work."
As a student of Professor Alleva, Professor Mavrova Heinrich had a first-hand experience of what it means to live the legacy of the Webb Professorship. "Patti's teaching excellence and professional contributions embodied what the Webb family has long recognized and supported – the vitality of effective teaching and ethical service to legal education and the profession of law," said Professor Mavrova Heinrich. "I vow to continue to carry that legacy forward."
The Rodney & Betty Webb Endowment was established in February 1996, in part to help ensure the UND School of Law can continue to attract and retain the best and brightest faculty. The Webb family gift has had a direct and very positive impact on the continued success of the School of Law and the high quality of education provided to its students.