UND School of Law Mentoring Session
April 1st Program To Be Held Online Through Zoom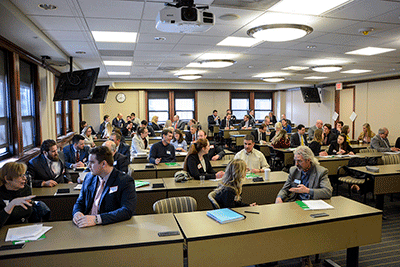 As part of its Professional Foundations course, the UND School of Law is inviting legal professionals to participate in a mentoring session with first-year law students on Wednesday, April 1, 2020 from 2:00 - 5:30 p.m. The program will now be held remotely though Zoom. The State Bar Association of North Dakota will provide 2 CLE hours to mentors who participate in the program.
If you would like to volunteer, please complete the Mentor Volunteer Registration Form
Based on the book entitled Roadmap: The Law Student's Guide to Meaningful Employment by Neil Hamilton (2018), our students are each drafting their resumes and writing a personalized "Roadmap" plan to develop their legal skills through their remaining time in law school and to find a career path that most interests them.
During the Professional Foundations class session on April 1, 2020, we plan to have each student conduct two 45-minute meetings—with one or two legal professionals per meeting—to seek feedback on their resumes and Roadmap plan. We will send the materials from two students to each mentor in advance of the session, to give the mentors time to review the documents beforehand.
In order to accomplish this program successfully, we will need approximately 90 legal professionals to volunteer for this mentoring opportunity. For additional information, please contact Professor Julia Ernst at julia.ernst@law.und.edu. Although mentors are welcome to read the Roadmap book, doing so is not necessary to participate in this program. We will send additional information to the mentors in the spring of 2020.
Resources
Roadmap: The Law Student's Guide to Meaningful Employment by Neil Hamilton (2018)