Penny Miller retires as NDSC clerk after 31 years
Original Article - Grand Forks Herald, December 23, 2019 by Travis Svihovec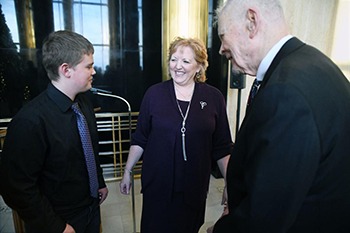 BISMARCK -- The woman who is just the fourth clerk of the North Dakota Supreme Court is retiring at the end of the year.
Penny Miller took the position July 1, 1992, and has seen the office and the state's court system through many changes. She's worked with 14 justices, taken the office from a "purely paper world" to near paperless, and been part of the unification of the court system, which went from a county-based system to judicial districts.
Each day is different, and the judicial branch is always changing, according to Miller.
"That's what makes the job one of those jobs you don't tire of, because you never get in a rut," she said.
Miller holds a law degree from the University of North Dakota. She worked for the State Bar Association after college, and was chief deputy clerk for the Supreme Court from 1988 until moving into the clerk's spot. It's a job that includes the position of secretary-treasurer of the state board of law examiners, secretary of the disciplinary board, and a spot on the state canvassing board. She simplifies the job of clerk to say it's that of record keeper, adding "everything comes through this office" to be checked for compliance of rules.
"It's been very interesting," Miller said. "It's a legal-administrative mix job."
The mix suits Miller well, according to Chief Justice Gerald VandeWalle, who said there are two parts to Miller. One is her job itself, "which requires a lot of tact on her part," he said. The other is Penny the person, who he said is "almost a perfectionist."
"If she misses our needs, she's mad at herself," VandeWalle said. "She's a delight to work with."
Miller has set aside her first six months of retirement to sleep, spend time with family, and "get a little wellness back into my life," she said. A run for elected office is not on her retirement bucket list.
"I'm not sure what Penny 2.0 is going to come out to be, but it won't be public office," she said. "I want my time to be my time."
Chief Deputy Clerk Petra Mandigo Hulm will step into the clerk's position. Miller said the best advice she can give her is to find a balance between work and home life, and delegate the duties of the office.
"She's worked here eight years. She knows it," Miller said.
Related Articles
Longtime North Dakota Supreme Court clerk to retire - GF Herald
Someone You Should Know: Clerk of N.D. Supreme Court says goodbye after 31 years - KXNet.com