Family Law students benefit from donation by alumna Krista Andrews, '98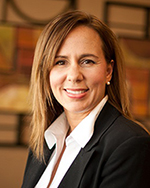 UND Law students interested in pursuing a career in family law have a unique learning opportunity, thanks to alumna Krista Andrews.
Andrews, along with her business partner Tim Brookins, developed PartUs, a cloud-based software used nationally by family law practitioners to effectively negotiate and settle divorce actions. The PartUs software brings order to chaos by streamlining the divorce process, which saves valuable time and resources for clients, attorneys and the court systems.
Andrews graciously provides Professor Ariana Meyers' Family Law class with free subscriptions to use the program in the classroom for the purpose of negotiating a mock divorce case. The students thoroughly enjoyed using the program, praising its user-friendly format.
"As a 1998 UND School of Law graduate, I'm really excited to be able to work with the law school so that students can use the technology we developed to assist attorneys and their clients streamline the divorce process and negotiate a settlement. It is wonderful to see the UND Law School as a leading force in training students to utilize technology in their practice, as this will be a critical component of their future practice."
Meyers became familiar with the innovative software through her practice as an attorney and has incorporated it into her coursework for the past two years.
"I have observed PartUs assisting students to critically think of and present varying settlement offers and counteroffers," said Meyers. "Moreover, I was thrilled to see the concepts we discussed in class, such as property equalization payments crystallize in the minds of the students. We are very grateful to Krista and her team for allowing us the opportunity to use PartUs for an enhanced learning experience."
Andrews is a shareholder in Anderson, Bottrell, Sanden & Thompson, in Fargo, N.D., and practices in the areas of family law, estate planning, real estate, and landlord/tenant law. She earned her law degree from the University of North Dakota in 1998. Prior to joining the firm, she represented the State of North Dakota for seven years as an Assistant Attorney General and Special Assistant Attorney General for the North Dakota Department of Human Services. Andrews has twice been recognized as a top 10 family law attorney in North Dakota and as a Great Plains Superlawyer.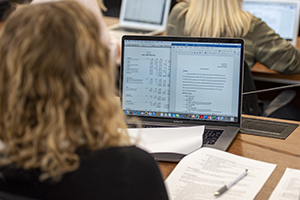 "We are so encouraged to see PartUs being utilized for a unique use-case, and grateful for the partnership with Professor Meyers," said Andrews.
The Family Law students appreciate the opportunity to work with this innovative software as part of their coursework. "Many of the students in my class have worked as law clerks for family law attorneys," said Meyers. "Those students commented that using PartUs was much more simplistic than using a traditional Excel spreadsheet, as PartUs eliminates the possibility of human error when calculating an equitable division of the assets."