Focus on the UND Law Family - W. Logan Caldwell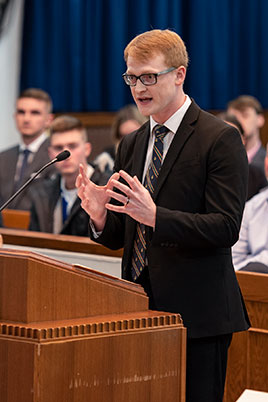 Logan Caldwell, a Jamestown, ND native, is currently a second-year law student. In his short time in law school, he has already completed an externship with the Eighth Circuit Court of Appeals, in addition to arguing in the finals of the fall internal Moot Court competition, judged by the North Dakota Supreme Court.
Tell us about your externship with the Eighth Circuit Court of Appeals?
After completing my first year, I had an amazing opportunity to intern with Judge Ralph Erickson at the Eighth Circuit Court of Appeals. He's an alumnus of the law school and a big supporter of UND. It was a blast! I didn't really know what I would be doing, but I got my hands on a little bit of everything. I did some writing, a lot of research, and looked into various state laws. I was able to wander the courthouse and experience bankruptcy trials and district court trials as well as sentencings and other hearings. I observed a jury trial for both a criminal and civil case at the federal level. It was really interesting. I also had the opportunity to travel with Judge Erickson and sit in on oral arguments at the courthouse in Saint Paul. After having researched and studied up on the cases set for argument, it was fascinating to see the judges question and interact on the panel. Being able to experience federal appeals that close up, as a 1L – it's a really rare and unique opportunity that UND is able to provide through its awesome alumni; it was a good time and a great experience.
How did you get the externship?
The externship process here, at least for the federal spots, you rank your top options. I put the Eighth Circuit Court as my top spot. I had read about Judge Erickson and read some of his opinions, and really aligned with his view of the law and appreciated his dedication to the legal community. As luck would have it, when they made their selections, he chose me as the extern for the summer right after my first year.
You made it to the finals for the internal Moot Court Competition, which was judged by the North Dakota Supreme Court. Can you tell us what it was like to prepare for that process?
Getting ready for the finals was a lot different than getting ready for the preliminary competition. My partner Martha and I knew we would be arguing the opposing side, and we only had a couple of days to prepare. Most of the preparation was understanding the same law from the other viewpoint. Finding new strengths in arguments I had previous argued were weak arguments. These were areas of law we had not covered; I could not sit back on my heels and think I've learned about this in classes. This was fresh material; my partner and I, and the opposing team, had not covered conflict of law, so there were a lot of late nights!
Why are you interested in law?
If you would have asked me a couple of years ago, I would've said absolutely not law, but one of the things I have always done throughout my career has been helping people when they are in tough situations. My background is in medicine, I am a paramedic. That's what I have been doing for the past 10 years. Law is now my second career. Law and healthcare do go together. Being a paramedic, people call you at the worst times in their life saying I need your help. Law is no different. People come into the office with the same mindset of needing help. The transition has not been as harsh as I would have imagined. A lot of the same characteristics that make a great healthcare provider, also make a great lawyer.
What type of law would you like to practice after graduation?
I ruled a few things out before I worked with Judge Erickson last summer, and now everything is back on the table. It's great. I haven't quite eliminated things yet, it's all new. I am cursed with curiosity! I tend to be more of a transactional guy – business, tax, contracts, property, oil and gas. Helping people make sure they get a good deal; not just right now, but 10, 20, 50 years from now, as well. I am taking healthcare law this spring, and I am interested in that area too.
What made you choose law school and choose UND?
That was an easy call, I am a North Dakota kid! I applied to more schools than I think I needed to, and got plenty of offers. I talked with my wife and we looked at the offers. It wasn't that the school was the most inexpensive; it was I knew I was coming back to North Dakota. I want to practice here – I was raised here have a strange affinity for the snow and ice I guess. There was no need to go anywhere else to get the same education that the UND School of Law can provide.
What has been the hardest part of law school thus far?
It's not the material. It's a given there is a lot of reading; it's remembering that the questions that you are asked on the exam might not only be relevant for that exam, but for your career. It's making sure to remember when you're studying for the exam or for the Bar, the information we are learning here are the tools of the trade we are going to need to help people later down the road. Studying for long term retention has been the most challenging because it is easy to forget material you don't discuss often.
What has been your favorite part about law school?
I want to learn as much as I can. I've really enjoyed meeting my classmates and talking with professors. If I disagree with people, it sharpens my arguments and it sharpens theirs. Every now and then, I walk away with my mind changed on something. I think that the most important thing is to have these discussions and dialogues to evolve the marketplace of ideas and see things in a new light. Law school is a fantastic place for that to happen.
What is life outside of law school like?
It is just as busy and crazy as it is inside of law school. I am a husband and a father. My wife and I are personal finance coaches and she runs a small business out of our home. We have three gorgeous daughters 4, 3, and 1, so I am usually covered in stickers and glitter when I go home. I am a family guy when I get home. My books and phone get put away and I spend time with all of these lovely women in my life. Every now and then, I like to get on the ambulance and work with patients to help out when I can. I also go to Grace Baptist church in town to make sure I start my week spiritually centered and grounded. There is a lot to be thankful for and that is something to always remember. My family and faith help me perform in school, be a better person, be a better student, and someday, a better lawyer.
What is one fun fact about you?
I used to study great white sharks. My undergraduate degree is in biology, and as a summer project I went to Mossel Bay, South Africa, and worked a lot on population studies, environmental studies, and predation strategies.