Focus on the UND Law Family - Tatiana Hamilton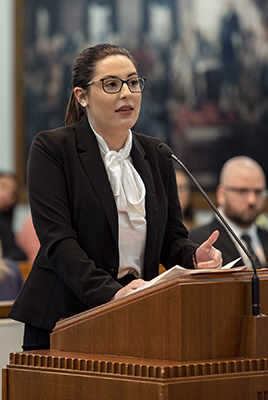 Tatiana Hamilton, a Fargo native, is a University of North Dakota undergraduate alumna with a Bachelor of Arts in Political Science. After spending a year in St. Paul, MN, she decided to move back and will begin her final year in the fall. In addition to being on the winning team of the Moot Court competition, she is the incoming Editor in Chief of the North Dakota Law Review.
Tell us about your externship with the U.S Attorney.
After my first year, I completed an externship with the U.S. Attorney's Office for the District of North Dakota in Fargo. I worked primarily with the civil division, researching complex issues, writing assignments, and visiting federal agencies. I loved it! Several of my classmates were also completing externships in the federal courthouse at the same time, and we had the opportunity to observe a civil jury trial together and often ran into one another at hearings. I learned a great deal about what it is like to practice law outside of the classroom, and the experience led me to be more interested in civil litigation. This summer I am working for Vogel Law firm in Fargo. The UND School of Law provides amazing opportunities for externship placements, and I am so glad I took part.
You made it to the finals, and won, the internal Moot Court Competition, which was judged by the North Dakota Supreme Court. How did you prepare for that process?
The process leading up to the Moot Court competition and the final round was time-intensive, but also very rewarding. The week of the Moot Court competition was busy, with a midterm for one of our classes in the middle of the preliminary rounds, and we really had to prioritize and find time to balance everything. When my partner, Katie, and I found out we advanced to the final round to be argued in front of the North Dakota Supreme Court, we knew that we needed to incorporate the feedback we received during the preliminary rounds. We read our case law again, quizzed one another on the issues, and practiced as much as possible. At a certain point, we trusted that we knew what we were doing and gained the confidence to succeed.
Why are you interested in law?
I love challenging myself academically. I also enjoy researching, gathering my thoughts, and putting them down in a coherent way. When I combined all those qualities, practicing law seemed like the right choice for me. The law has so many complexities, and I feel as though I will be able to learn something new every single day for the rest of my life. That excites me.
What type of law would you like to practice after graduation?
I am keeping my options open! I lean towards civil litigation, but I don't want to foreclose what could be amazing opportunities for me to learn and grow. I really enjoyed my Professional Responsibility class, so I have been exploring career paths that would incorporate that.
What made you choose Law UND?
I grew up in North Dakota, my family is in North Dakota, and I attended the University of North Dakota for my undergraduate degree. When I was deciding where to apply, I was living in Minnesota, away from my family and friends. I knew that I wanted to return to North Dakota and settle down for good, so the UND School of Law ultimately made the most sense! I actually did not apply anywhere else.
What has been the hardest part of law school thus far?
The hardest part of law school has been learning how to balance responsibilities. It is easy to get caught up in studying and not be present with your loved ones or focus on student organizations rather than class work. Now that I'm finishing up my 2L year, I feel like I have been able to find my own balance and what works for me, but it definitely takes time to get there and learn your own style.
What has been your favorite part about law school?
My favorite part of law school has been forming relationships with classmates and professors. Law school can be stressful, and all students are trying to find their footing and succeed. I feel like students are able to relate to one another in some way because of our shared experiences in law school, even if we are different in other ways. I have a great group of friends that I connected with in law school. I also enjoy that professors genuinely care about students and want us to succeed. They have their doors open to discuss our summer positions, class planning, and more, and that is invaluable to navigating through law school.
What is life outside of law school like?
Life outside of law school is directly tied to my life inside law school in some ways! I started dating my fiancé during my senior year of undergrad at UND, and he is now one of my law school classmates. We live in Grand Forks and have two cats. I try to set aside time each day to focus on my relationships, friends, and family, whether it be spending time together in person, checking in via text, or playing a board game. My priorities have always revolved around my family, and I try to get to Fargo as much as possible to see my mom, sister, aunts, uncles, cousins, and grandparents.
Tell us a fun fact about you.
My first flight was when I was 3 weeks old and was more than 20 hours long because I was born on the Misawa Air Force base in Japan, and my mom took me home to North Dakota that summer to meet family.