Moot Court Program Ranked 44th Nationally
The University of North Dakota School of Law's Moot Court program finished ranking 44th overall in the nation in the 2019-20 competition year.
"We are so grateful for the strong support our moot court program has long received from our alumni and friends," said UND Law Dean Michael McGinniss. "They generously contribute their time in helping our students prepare to be great courtroom advocates, as well as providing gifts to help us cover the travel expenses for the competitions."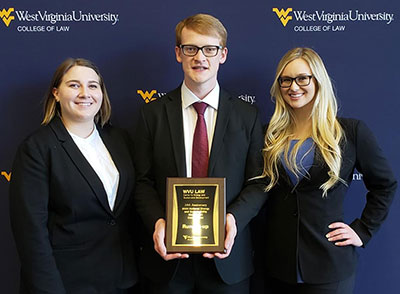 The UND Law team had an especially strong showing at the National Energy and Sustainability Moot Court Competition. Both UND Law teams made the final four, and the team of second-year student Logan Caldwell and third-year students Martha Amdahl and Audra Fisher earned a runner-up placement. The success of the teams at this competition helped propel the UND School of Law to its high ranking among moot court programs nationwide.
"This year we had both of our teams advance to the round of four. Unfortunately, they had to argue against each other in the semi-final round, so one UND team knocked the other UND team out of the final round," said UND coach and alumna Kiara Kraus-Parr. "My dream of an all UND team in the final round escaped me, but we were extremely close this year."
In March, the 10th annual competition was hosted by the University of West Virginia College of Law and featured 37 teams from law schools around the country. The UND team faced a team from the University of Virginia in a closely-contested final round, with the final decision being a split vote. During the final round critiques, U.S. Second Circuit Judge Gerard E. Lynch remarked that Ms. Amdahl's rebuttal "may have been the best two minutes" of the round. Caldwell also received individual honors as Best Oralist for the competition.
UND Law has sent teams to the West Virginia competition all but one year since 2013. A UND Law team has advanced to the final round in three of those seven years.
Speaking to the success of the UND Law Moot Court program, Kraus-Parr attributed it to excellent preparation and a strong work ethic. "I am consistently amazed at the amount of work my moot court students do for a competition in addition to the demands of being second- and third-year law students. The work ethic of our students has produced these consistent positive outcomes."
The Moot Court program is lead by Professors Kirsten Dauphinais and Ariana Meyers. Dauphinais expressed pride in the program's success and in the students involved. "We have one of the smallest moot court programs in the country and, as we do frequently, this year we outpunched our weight class in terms of performance," she said. "Our little but fierce external team continues to represent UND Law School with distinction."
In the spring of 2021, UND School of Law will host the National Native American Law Students Association moot court competition on campus. "We were excited to hear the news that the National NALSA board selected UND Law to be the host for next year's competition," said Dean McGinniss. "It is a competition our students have regularly competed in, and their selection is a testament to the strength of our Moot Court program at UND Law."
Watch the UND Law Team Compete in the 2020 National Energy and Sustainability Moot Court Competition Final Round