UND Law Graduate Joins Task Force to Fight Against COVID-19
Rachel Prudhomme is a 2013 alumna and serves as an Adjunct Faculty member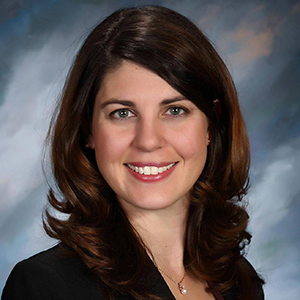 As the COVID-19 situation began to grow in Minnesota, one UND Law alumna decided to do her part to fight the spread of the virus. She did so from behind her sewing machine.
Rachel Prudhomme, '13, answered the call when she saw a social media post asking to fill the immediate need for face masks in Thief River Falls, Minnesota, and surrounding communities.
"I had an old sewing machine that was gathering dust in my basement and I wanted to be able to contribute to my community's safety and well-being, while maintaining social distancing," Prudhomme said. To date, she has sewn more than 400 masks, many of which have gone to dialysis patients, food processing plant employees, and school district staff. Currently her focus is on creating face coverings for weekly distribution to teachers and students.
"I have really enjoyed being involved in helping my community, and everyone receiving the masks have been appreciative," she said.
Prudhomme's efforts are part of the larger group called the Minnesota Mask Task Force, a group of local sewers from Thief River Falls. They created a Facebook page as a forum where local volunteers post mask needs, exchange supplies, and organize mask donations.
Members of the group take turns calling local businesses to identify high-risk and vulnerable populations. Once a need is identified, three women are tasked with assembling kits of pre-cut fabric and elastic so that sewers can work quickly to collect and deliver finished products.
"By being organized early on, we were able to quickly delegate work on large requests. So within a few days, we were able to deliver 300 masks to the school staff and 40 masks for all of the Meals on Wheels recipients and volunteer drivers," Prudhomme said.
The Minnesota Mask Task Force continues to provide masks weekly to the Thief River Falls fire hall and the Thief River Falls Chamber of Commerce to distribute to local businesses, medical centers, hospitals, and nursing homes. Most recently, the group provided 566 masks to the Fargo VA Hospital and 400 masks to a Minnesota community senior center.
"We are a small volunteer-based group, so as long as we can, we are willing to assist and fulfill fabric mask needs within our region," Prudhomme stated.
After law school, Prudhomme had the opportunity to work in a small firm and gain experience and knowledge in the area of family law before deciding to open her own law firm, Prudhomme Law, in Thief River Falls. She primarily works as a three-quarter time assistant prosecutor in Mahnomen County, as a mediator for the North Dakota Family Mediation Program, and as an adjunct professor at UND School of Law teaching Alternative Dispute Resolution.
Prudhomme was elected to the city council of Thief River Falls, representing Ward 5, in two separate elections. She is appointed to the Minnesota Juvenile Justice Advisory Committee (JJAC) and serves as a board member for Legal Services of NW Minnesota.