UND Law New Tenure-Track Faculty
Jennifer Cook, Nick Datzov, and Michelle Phillips Join Faculty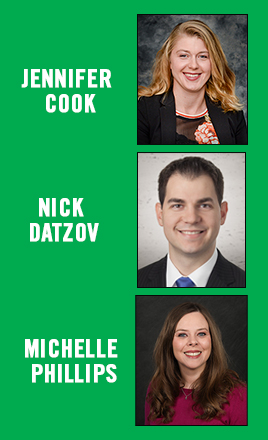 As students returned to class in the fall semester at the University of North Dakota School of Law, they were introduced to three new tenure-track faculty members – Jennifer Cook, Nikola (Nick) Datzov, and Michelle Phillips.
"We are very excited to add these three outstanding individuals to our tenure-track faculty," said UND Law School Dean Michael McGinniss. "Their legal expertise and promise of teaching excellence will further strengthen our curriculum in a variety of important ways."
Professor Jennifer Cook is not necessarily "new," as she has been with UND Law for two years as a full-time special appointment faculty member. She now has been hired to fill a tenure-track position. She joined the law school faculty after serving as policy director for the ACLU of North Dakota. Before that, she served as a judicial law clerk to Magistrate Judge Karen Klein of the U.S. District Court for North Dakota. She is a proud 2010 graduate of the UND School of Law. In the coming year, she will continue to teach first-year students legal research, analyses, writing, and oral advocacy in our Lawyering Skills program, as well as teaching new courses on Privacy Law and a Social Justice Lawyering writing course for our upper-level students.
Professor Nick Datzov comes to UND Law from his law practice with Fredrikson & Byron, P.A., where he has focused on intellectual property law. He previously served as a judicial law clerk for Judge Kermit Bye of the Eighth Circuit, and graduated from law school at Hamline summa cum laude in 2011. In the coming year, he will be teaching the first-year Torts course, along with Intellectual Property, Remedies, and our bar course on Conflict of Laws.
Professor Phillips joins the UND Law faculty from a professional career with Hess Corporation, where she has most recently served as a commercial advisor in Minot, N.D. and, in the past year, in Houston, Texas. She will be teaching courses in the upcoming year on Oil & Gas Law, Energy & Mining Law, Transactional Negotiations, and Business Associations. She earned her JD and MBA from the University of Oklahoma in 2006. She has 14 years of energy industry experience, and her work has supported exploration, production, and onshore and offshore midstream operations. Her experience has focused on examination of land, mineral and leasehold title; reviewing title opinions; stakeholder engagement; upstream and midstream project management; as well as interpreting, drafting, and negotiating contractual provisions in oil and gas related contracts. She holds bar licenses in seven states, including North Dakota.
"We are very pleased that, with the strong support we received from the North Dakota legislature in the 2019 session, we were able to pursue these outstanding hiring opportunities and successfully fill the positions," said Dean McGinniss.
For a full listing of all UND School of Law faculty see the faculty webpage.