Focus on the UND Law Family: Amanda Tucker, '17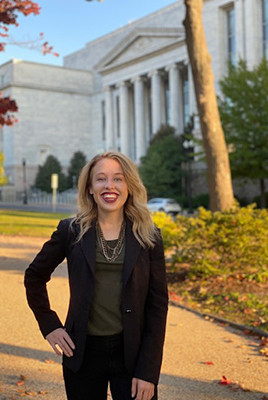 Amanda Tucker, '17, is a program analyst with the United States Department of Agriculture in Washington D.C. and served as a Presidential Management Fellow. During her two years, she worked for a policy branch in Food and Nutrition Services as well as USDA's Office of General Counsel. This Q & A will help you learn more about how she secured the highly competitive fellowship and the experience she gained through the program.
What inspired your journey to Law School? I have always been drawn to public policy. I knew a law degree would be a good base for public policy jobs. What I didn't realize but lucked into was how a J.D. could change your thought process, allowing you to think through the consequences of certain policies.
What made you choose UND? I got my undergraduate degree from UND, so I already knew it was a welcoming environment with professors who were willing to support you. Also, the value of obtaining your J.D. from UND School of Law is incomparable. The cost of tuition gave me the flexibility to search for a job that I was passionate about.
How did apply for the fellowship? There were numerous steps in the fellowship application process. This process is made to cut down more than 5,000 applicants to approximately 150 appointments. First, I completed an on-line assessment that included four parts: situational judgement, life experience, problem solving, and writing. The assessment mainly consisted of multiple choice questions and essays. After that step, there were multiple interviews. These interviews could lead to an agency deciding to host your fellowship. I eventually ended up at the Department of Agriculture at Food and Nutrition Services as well as the Office of General Counsel.
Tell us about your experience and what are your biggest take a ways? My experience gave me respect for the goals the government undertakes. Since I worked at Food and Nutrition Services, I mainly saw this with food programs. This respect was deepened while working to provide Disaster Household Distribution to States severely affected by COVID-19. This respect is certainly not limited to Washington, DC either. USDA Regional Offices work directly with the States to carry out these programs. The States take all these requirements and make a program for their citizens that actually works. My experience also showed me how the different parts of government interact. You learn about the different branches numerous times in your education. To be a part of the process, you truly see how government works down to the intricacies within one branch. Even though I worked with USDA programs, I communicated with Congress, the Office of Management and Budget, Department of Health and Human Services, and other components of government.
Tell us a fun fact about yourself - My high school class only had three students. I thought I was always surrounded by people at UND. Living in DC showed me what it is like to truly be surrounded by people.