Rachael Mickelson Hendrickson named 2021 Outstanding Law Student Leader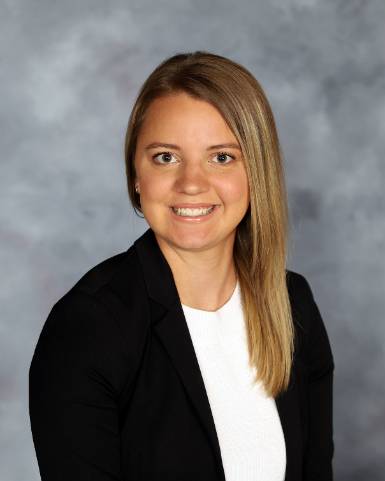 UND School of Law is delighted to announce Rachael Mickelson Hendrickson as the winner of the 2021 UND School of Law Outstanding Law Student Leader award. The annual award, determined by a vote by the law faculty and staff, is presented to a member of the graduating class for their dedication to the development of the UND School of Law by making significant contributions to its growth and providing leadership through example.
Mickelson Hendrickson was one of twelve nominees, selected from members of the class, who received the UND Lillian Elsinga Outstanding Student Leader Award in either their second or third year of law school. The award recognizes students from across campus who have exhibited exceptional leadership skills through their campus involvement, volunteer service efforts, on-campus employment, or other life experiences.
Her leadership with the successful coordination and execution of the 2021 National Native American Law Students Association (NALSA) Moot Court Competition was noted as the primary reason for being voted for the award by faculty and staff. Mickelson served as the Administrator for the competition as well as the President of UND's NALSA chapter. The competition, originally planned to be held in-person at UND, took place virtually due to the COVID-19 pandemic. Under Mickelson Hendrickson's tremendous leadership, UND School of Law hosted 40 two-member teams, 30 coaches, 120 judges, and 33 bailiffs. On the first night of the competition, a Tribal Flag Dedication Ceremony took place with the installation of the flags from the five tribes of North Dakota placed in the VandeWalle Courtroom for permanent display.
In addition to her involvement with NALSA, Mickelson Hendrickson participated in a number of other student organizations throughout her time in law school including the Rural Practice Association, Phi Delta Phi, and the North Dakota Law Review (NDLR). Her leadership roles included serving as the Vice President of the Rural Practice Association and Secretary/Treasurer of NALSA during her 2L year. She served as the Clerk for Phi Delta Phi and both the Research and Technical Editor of the NDLR during her third-year of law school. "My involvement in student organizations and leadership roles allowed me to connect with law students, faculty, and staff that I may not have otherwise had the chance to meet as well as individuals in the legal field who had the same interests as me," said Mickelson Hendrickson. "My leadership roles encouraged me to continue to seek out leadership opportunities while an attorney and to look for areas I can give back to my hometown."
Mickelson Hendrickson graduated with her J.D. from UND School of Law, ahead of schedule, in December 2020. She successfully passed the North Dakota bar exam in February and became a licensed attorney this spring. Her dream and goal throughout law school has always been to have her own law office in her hometown of Rolla, ND. In the spring of 2021, her dream came true with the opening of the Mickelson Hendrickson Law Office, LLC. "I wanted to come back to my community and provide a service that many rural areas do not have," commented Mickelson Hendrickson.
When asked what advice she has for incoming law students Mickelson Hendrickson replied, "get involved, meet the staff and faculty of the law school, and study hard." She made special mention that students should be careful not to overextend themselves, especially in their first year. "I chose the organizations I was most passionate about and put all my extra time and effort into making these organizations stronger and offering the best experiences for our membership."
"I am so honored to have received the 2021 Outstanding Law Student Leader Award. I cannot put into words how great it feels for my hard work to be recognized, especially by a group of individuals I greatly admire. I can't wait to give back to the UND Law School in the future."