Focus on the UND Law Family - Bailey & Gabriel Dumea '22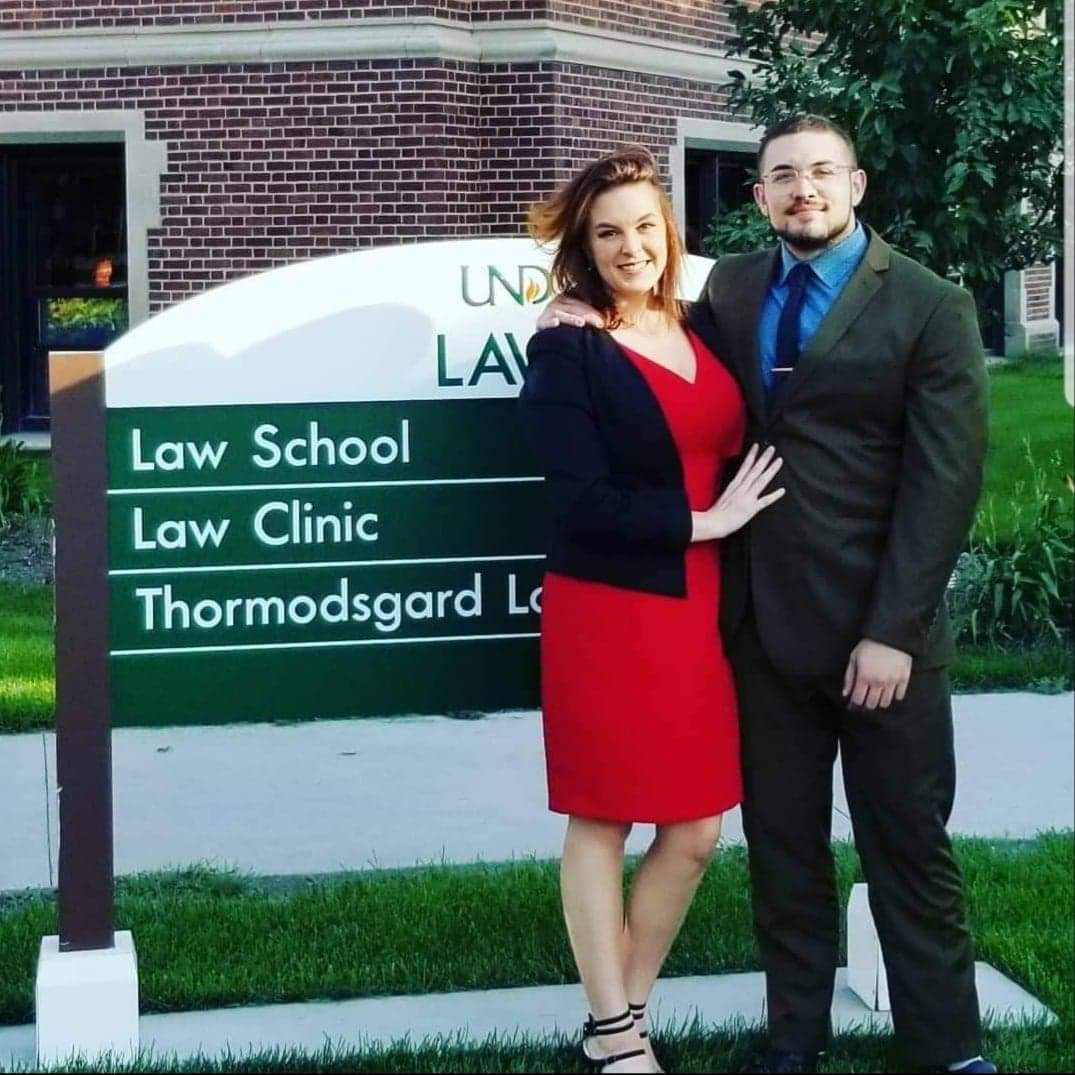 Lessons in Law, and Love
Third year law students Bailey and Gabriel Dumea met just before starting their first semester of law school. Growing in love with the law and each other led them to marriage and a summer externship with the Tribal Judicial Institute.
Tell us how you met:
Bailey: We met a few weeks before our 1L semester. We were both moving from out of state and looking for friends to connect with.
Bailey grew up in Grapevine, Texas and graduated with her undergraduate degree from Howard Payne University in Brownwood, Texas. Gabriel was born and raised in Hollywood, Florida - the first member of his immediate family to be born in the U.S. He graduated from the University of Florida in Gainesville, Florida with a degree in philosophy.

We started dating and working through our first semesters of law school together. Our first semester was a learning curve and we both had to pull each other up. By our second semester COVID was in full swing and there were rumors of being switched to online courses. By February, Gabriel and I had already been dealing with moving to a completely new state, started law school in a pandemic, and adopted a puppy. So why not get engaged? Gabriel proposed in February and we were married the following June.
Why did you decide to do an externship together?
Bailey: We both wanted to do an externship involving Indian Law. We were applying to a few Tribes to see if they needed any in-house legal work done over the summer, but the global pandemic made things difficult. Fortunately, our associate director, Michelle Rivard Parks, was also our law school professor. We had expressed that we were looking for externships, but that we would have a difficult time relocating to separate parts of the Country because of the nature of our relationship. She expressed that she needed help at the Tribal Judicial Institute, and we were more than willing to work for her and tackle many of the problems and complex legal issues that attorneys and judges, as well as Tribal council members face in Indian Country.
Tell us about your externship experience with the Tribal Judicial Institute:
Gabriel: Here at the Tribal Judicial Institute (TJI) we aid and assist tribal governments in creating, implementing, and enhancing their justice systems. This involves navigating the complex civil and criminal issues that judges and attorneys face in Indian Country. We also resolve many of the conflicts between the federal government in tribes as they pertain to federal Indian law and tribal law.
What are your job duties and responsibilities?
Bailey: I am a law clerk in charge of researching projects for Tribes all over the country. Our first project dealt with the special domestic violence criminal jurisdiction exercised by 27 Tribes in the entire country. Native women are one of the highest demographics to suffer from domestic and physical violence. SDVCJ allows Tribal courts to exercise jurisdiction over any person, Indian or non-Indian, who commits an act of domestic violence against a Tribal member. In this project I got the opportunity to reach out to each Tribe and personally learn about their tribal codes and laws. The importance of my work at TJI lies in assisting Tribal judicial systems. The more developed Tribal courts are, the more people that can be helped.
Gabriel: I am a law clerk, and I do research on some of these complex issues, and help assist my associate director, Michelle Rivard Parks, and my executive director, BJ Jones, in putting together research memos and slide decks that are used in executive summaries as part of a multitude of federal grant programs. One of the very important issues I alone was able to help resolve and do research on, was how tribes could incorporate some of their oral and customary laws into their tribal codes. I had previously opted to do a research paper on this topic during Tribal Law, so this was a very exciting opportunity for me.
What has been the biggest challenge?
Gabriel: The greatest challenge I would say I have overall, is tackling these narrow and complex legal issues. I am often tasked with working on legal issues that have no resources that I can turn to. Being flexible and thinking outside of the box is required for this field. Maybe one or two of all my task assignments had anything of any use on legal databases like Westlaw or LexisNexis. You must know how to utilize websites, how to interpret and read tribal codes, and a great understanding of federal Indian law. Our first task assignment together had us call over 30 tribes.
Bailey: My biggest challenges so far have been interpreting Tribal codes. Each Tribe has their own individual code based on their own individual cultures. This means interpreting codes can be very difficult when you are first exposed to them.
What has been the biggest reward?
Bailey: The biggest reward is the experience itself. I am getting the opportunity to work with two Tribal judges and Tribal codes all over the nation. I am getting the opportunity to analyze new interpretations of the law and how they can help Tribes in the future.
Gabriel: I have learned that I love challenges. I love work that is very intellectually stimulating and allows me to think deeply about the issues and craft some creative arguments and legal analyses.
What are your key takeaways from this experience?
Gabriel: When you start law school, you really have no idea what you like or what you are interested in. I grew to love Indian law; it is a unique and exciting field of law that has great need for minds to contemplate over and tackle these complex legal issues. I have learned a lot pertaining to Indian law, but I think that I have also learned a lot about myself. Pure selflessness and loving the work for what it is and who it benefits, is probably the most fulfilling position I think anyone can be in. When you truly love and care about something, I think you are willing to do anything to make sure you do a great job at whatever you are asked to do. I love the environment that I am in and the community that I am working for.
Bailey: I hope to gain experience in learning Tribal culture and working with Tribal courts and codes. Jurisdiction in Indian country is not an easy topic. It's an even harder topic to learn when you have a final grade on the line in a class environment. This externship allows me the opportunity to learn all the ins and outs of jurisdiction in Indian country without the stress of the final exam. More often than not, experience is a better teacher than lectures.
What inspired your journey to law school?
Bailey: My parents always told me I would make a great lawyer because "they were constantly arguing with a two-year-old." I gained a passion for the law when I was at Howard Payne University and joined the moot court team. My first competition was absolutely terrible. I almost disqualified myself and then argued the wrong side during the round. At this point I began to question why I wanted to go to law school. But I persevered and continued trying. I enrolled in moot court each semester for the four years I was in my undergrad. By the end of my senior year, I was second speaker in the region for the Texas Undergraduate Moot Court Association.
Gabriel: I was honestly unsure about where my path would lead me. I took courses in my undergrad at University of Florida that I enjoyed. I took a lot of real estate courses along with my philosophy degree. It was there that my interest in law spiked. I took business law during one of my last semesters at UF, and it was there that I decided I would at least give the LSAT a shot. I was sick of being in school at that point and wanted to work. I was attempting to get my real estate license and planning on becoming an agent and eventually owning my own brokerage firm. But ultimately, I decided to take a chance and took the LSAT on a whim.
Why did you choose UND School of Law?
Gabriel: I had known for a few months during my research into which law school and region would be the best for me, that the upper midwest/northern plains region had a great need for attorneys. I also knew that UND School of Law was inarguably the best value law school in the country. All the law schools I considered in-state had less lucrative job opportunities due to career field saturation post-graduation, and UND had more optimistic figures. The tuition and cost of living were also far lower than anything that I could match in-state. Aside from the cold weather, it seemed like a no brainer. But I have adapted quite well to the weather here, I enjoy it most of the year.
Bailey: I initially chose UND because I wanted a change of atmosphere. Growing up in Texas there is never snow and I wanted white Christmases so badly. After researching the school more I fell in love with the culture. UND provided a close-knit law school experience that focused on student success.
What type of law do you aspire to practice after graduation?
Bailey: After graduation I would love to work in Indian country, predominantly in family law. Indian Tribes are not bound by the same laws as states so this means that the area of family law will be slightly different. Juvenile courts must abide by the standards established in the Indian Child Welfare Act as well as by their individual Tribal codes. It's all very exciting and I cannot wait to help Tribal communities. Children are the future and to help kids means helping the future of the Tribe.
Gabriel: I love Indian law. I hope to one day use it in my practice. I love all areas of Indian law, but I am particularly drawn to criminal law, oil and gas law, business law, real estate law, and trusts & estates law.
Tell us one item on your bucket list:
Gabriel: I have been across western and eastern Europe too many times to count. I hope to take my wife there one day to experience the same things that I have there.
Bailey: Before I die, I would love to travel across Europe on a food tour!
What food would you never get tired of eating?
Bailey: sushi, my husband says I'm high maintenance!
Gabriel: My wife would call me a hypocrite, but sushi!
Name your favorite hobby:
Gabriel: I love gardening. I used to do a lot of it in Florida.
Bailey: My favorite hobby is anything art. I definitely have my logical/scholary side, but I am also an artist.
Tell us a fun fact about yourself:
Bailey: I love thrifting and I cringe at wasting money. Everything in my house has value because its vintage and midcentury and it was all found while thrifting with my husband!
Gabriel: I have eaten almost every exotic fruit out there. Perks of being from south Florida.
Who or what was your greatest influence growing up?
Gabriel: My Godfather, who immigrated from Romania and without obligation, chose to sacrifice everything for me to have a better life. He spent many years working 12-hour days as a tile layer and many hours helping me study in grade school.
Bailey: My greatest influence growing up was my parents. A lot of the kids I was friends with had parents who were divorced and I was lucky enough to have parents who were committed to each other and their family.
Bailey and Gabriel are on schedule to graduate from UND School of Law in December 2021 and plan to sit for the bar exam in February of 2022.