Gerald W. VandeWalle Courtroom Dedicated
The Gerald W. VandeWalle Courtroom was formally dedicated on Friday, October 22, 2021, during UND Homecoming.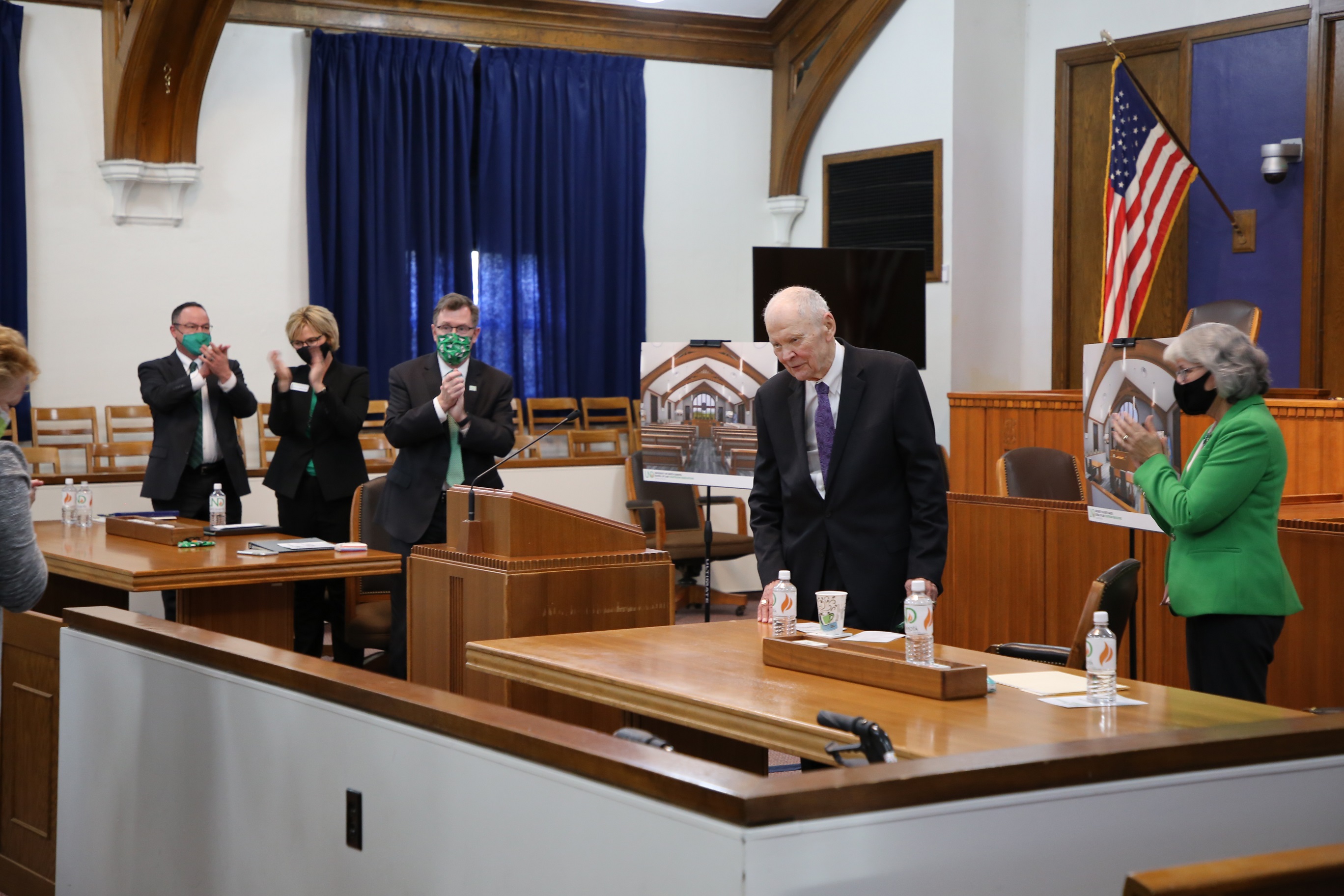 The ceremony was led by UND School of Law Dean Michael McGinniss who said of Justice VandeWalle, "He is a man of exemplary virtue and unique gifts for leadership, who has selflessly dedicated himself to serving the people of North Dakota with his legal knowledge and skills, most prominently as the Chief Justice of our Supreme Court for 37 years."
Remarks were given by UND President Andrew Armacost, CEO of the UND Alumni Association and Foundation DeAnna Carlson Zink, and North Dakota Supreme Court Justice Lisa Fair McEvers. Justice VandeWalle gave brief remarks graciously thanking those in attendance, those who could not be in attendance, the University, and the School of Law for the honor.
The courtroom, originally named the Baker Courtroom, has been updated with signage hanging above the iconic double doors of the room. A renovation in the coming months will include extensive updates and enhancements to the audio and visual technology, supported by the School of Law Annual Excellence Fund. The paneling covering the window behind the bench will be taken off to return the room to its original design and beauty. The room will also receive new light fixtures, repairs to the ceiling, painting, and new window treatments, carpet, and furniture. The renovation is expected to be completed by Spring 2022.
"We are so proud to call him an alumnus of the great University of North Dakota and so proud that his legacy will, from here on, be associated with this courtroom," said DeAnna Carlson Zink during her remarks. The ceremony concluded with Dean McGinniss presenting Justice VandeWalle with an 8x10 framed rendering of the planned renovations for the courtroom.
Dedication Ceremony