Rotherham and Langley win 2021 Internal Moot Court Competition
Finalists Haley Finch and Samantha Leitold win Best Appellee Brief.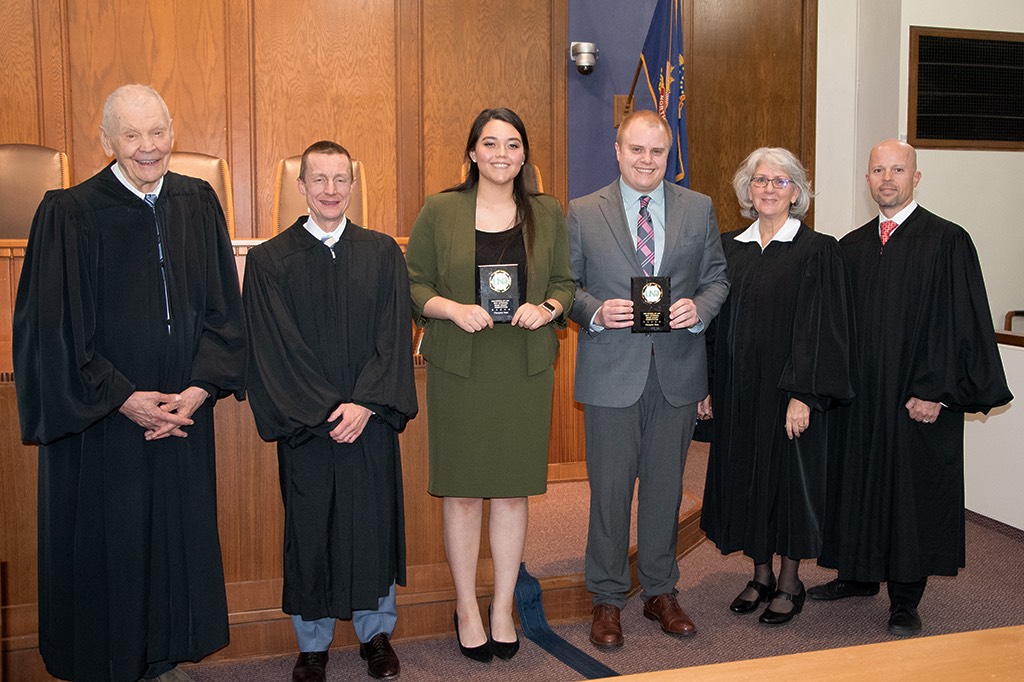 Justice Gerald VandeWalle, Chief Justice Jon Jensen, 2021 Moot Court Champions Elizabeth Rotherham and Tanner Langley, Justice Lisa Fair McEvers, and Justice Jerod Tufte.
Second-year law students Elizabeth Rotherham and Tanner Langley were named champions of the 2021 Internal Moot Court Competition on the evening of November 2. The final argument of the competition took place in the VandeWalle Courtroom at UND School of Law with Rotherham and Langley representing the Petitioner and fellow second-year law students, Haley Finch and Samantha Leitold, representing the respondent. The School of Law was honored to have four of the five North Dakota Supreme Court Justices in attendance judging the final round of the annual competition.
Each student had 15 minutes to present their argument to the Justices. The problem centered around the Telephone Consumer Protection Act and privacy rights. Adapting quickly was an essential skill in the final because the justices interrupted and challenged their arguments with questions about case law and rebuttals. "Being thoughtful with responses was a great piece of advice I received from the competition," said Langley. "There is nothing wrong with taking a moment to pause and think about the question fully before starting your answer."
The three-day competition, a longstanding tradition at UND School of Law, provides an opportunity for second and third-year students to gain experience in both legal writing and oral advocacy as well as working with a partner. "It's a good experience to become a well-rounded law student," said Ariana Meyers, Assistant Professor of Law and Co-Faculty Advisor for the Moot Court Program.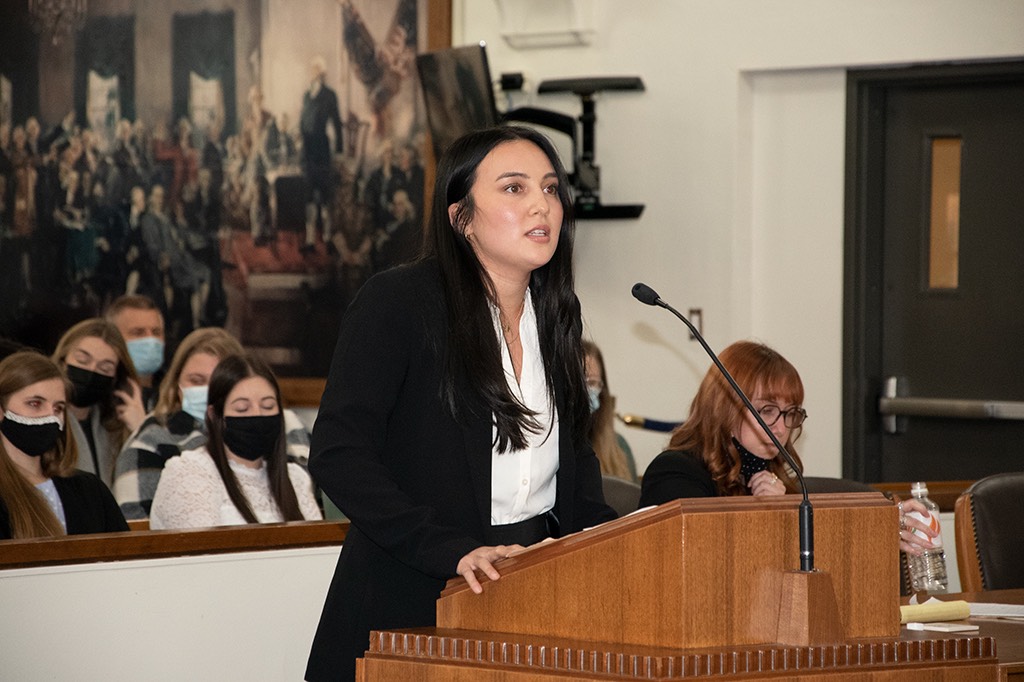 The students began preparing a month before the competition by attending two class sessions with Professor Meyers. The first session focused on writing a brief and the second offered practice in oral advocacy. "I was nervous to join moot court, but I decided to do so in order to push myself out of my comfort zone," said Rotherham. "I was able to develop my brief writing and oral advocacy skills and gain some real-world experience, which was such a rewarding feeling."
Each team competed in two Preliminary rounds- the closest preliminaries Professor Meyers had ever seen, followed by the quarterfinals and semifinals. All the judges were practicing attorneys and the majority were UND School of Law alumni. "We were really fortunate to have volunteers from the Greater Grand Forks County Bar judge the competition," said Meyers, "Other law schools don't get outside volunteers for their Moot Court competitions and have to depend on faculty, staff, and sometimes even students to judge."
The culmination of the competition is the final round judged by the North Dakota Supreme Court. "We are one of the only law schools in the nation to have a Supreme Court Justice, let alone the entire panel, judging our internal competition," said Meyers. The justices prepare for the competition in the same way they would for a real case and are known for asking difficult questions. At the completion of the competition and prior to announcing the winners, the justices gave feedback by critiquing each student's argument. They provided positive comments and constructive criticism that helped the finalists moving forward as well as all students watching and listening in the audience. "Frankly, at this level, you are all good appellate advocates," said Chief Justice Jon Jensen of the finalists. He concluded with a thank you to the students and the school, "This is something that, for us, is a privilege. It's something that we very much enjoy."
2021 Award Winners
Best Appellant Brief - Elizabeth Rotherham & Tanner Langley

Best Appellee Brief – Samantha Leitold & Haley Finch

Best Appellant Oralist (preliminary rounds) – Tanner Langley

Best Appellee Oralist (preliminary rounds) – Haley Finch

Best Final Round Oralist – Tanner Langley

Champions - Elizabeth Rotherham & Tanner Langley (pictured above with ND Supreme Court Justices.
UND Moot Court Board 2021-2022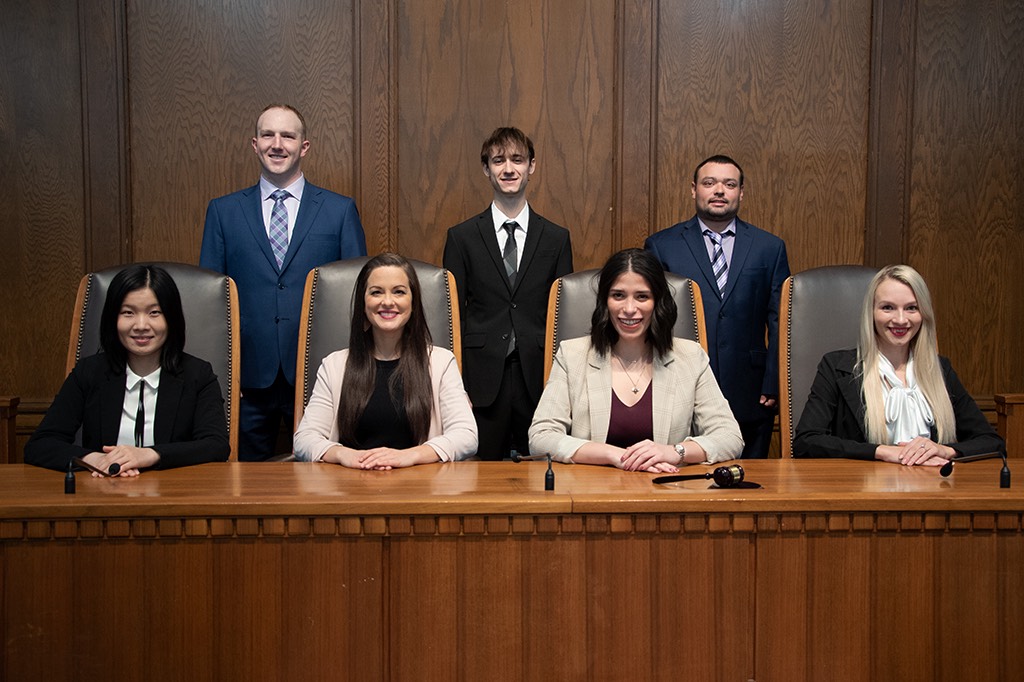 Back: Robert Togni - Director of Externals, Noah Skavhaugh - Director of Externals, Alex Dillabough - Director of Externals.
Front: Yiwei Chen - Treasurer, Samantha Schmidt - Director of Internals, Ericka Muller Moran - President, Allisha Dworshak - Director of Internals.
Faculty Advisors (not pictured): Ariana Meyers and Kirsten Dauphinais