Focus on the Family - Ria Gomes, Class of 2021
A passion for the law, a desire to help others, and an unexpected turn of events leads Ria Gomes to the University of North Dakota.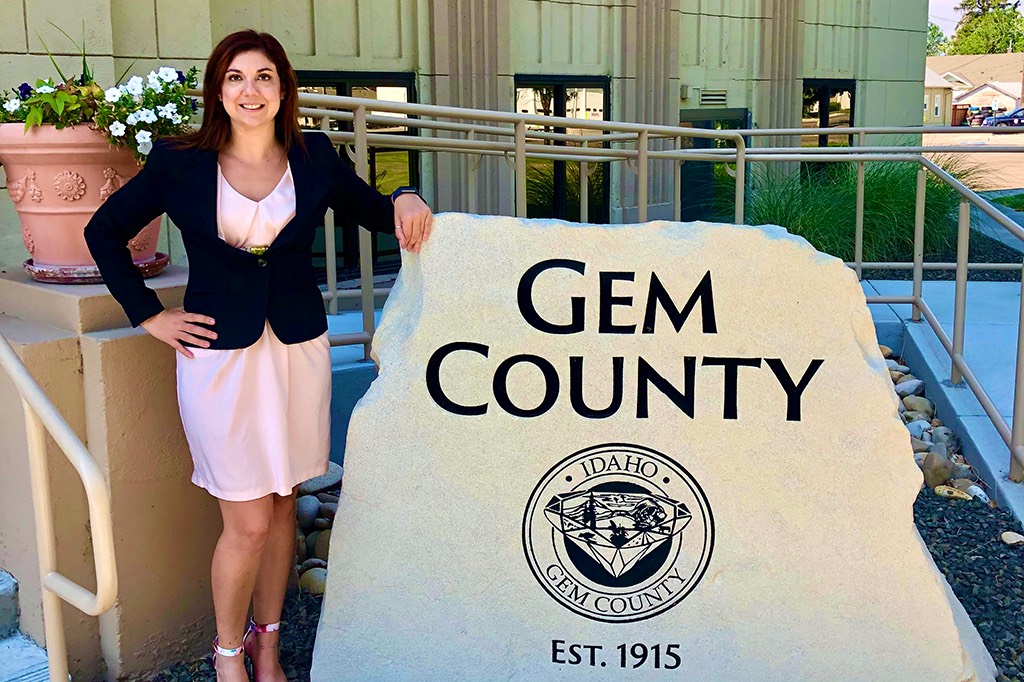 What inspired your journey to Law School?
My journey to law school has never felt inspired, but instead more a journey of self-realization. As if nothing else was going to satisfy my core desire for justice. I had to become a lawyer. At first, as a farmer's daughter with a high school graduating class of 37 students, I wanted to be a forensic psychologist so I could understand the world. I realized my love of criminals while attending San Francisco State University. Not criminals in the flesh, but the procedure of criminal proceedings. The plethora of court cases assembled based upon legal literature, interactions with law enforcement, and the preservation of individual rights. After obtaining my B.A. in Criminal Justice Studies, I was fortunate to find a job as a legal assistant in a small firm and later became a certified paralegal.
In 2018, I completed a master's degree in Criminal Justice from Excelsior College, while also continuing to work full time as a Courtroom Case Manager for the State of Alaska Court System. The more people I encountered at work, the more I realized how deficient our criminal justice system actually was. Defendants did not understand the nature of the charges against them and had no idea of the ramifications of criminal procedural matters. I realized, Alaska needs legal advocates that can help navigate the complexities of the legal system. So in 2019, I left my forever home in Alaska to attend law school.
Why did you choose UND School of Law?
I did not choose UND School of Law, the school chose me, and in so doing, saved me. My journey to law school did not stop after getting accepted and even attending law school for a year, I had to keep fighting. I started my law school education at Concordia University School of Law in Boise, Idaho. Within 6 months of moving COVID-19 struck and we were sent home. That summer, Concordia closed for good. That's when UND came to the rescue. UND worked with me through an incredibly difficult time. They made the transfer process simple, fair, and efficient. I am truly honored at the opportunity UND gave me. My law degree, which I will officially receive in December, will be something I cherish even more because of how many people made it possible.
Tell us about your externship experience this past summer.
During the summer of 2021 I externed with the Gem County Prosecuting Attorney's Office in Emmett, Idaho working as a limited license intern prosecutor, which entailed carrying my own caseload. I worked cases from initiation through disposition. I had the responsibility of deciding whether to charge the defendant with a crime, recommend issuance of a warrant, imposition of bail, conditions of release, and even decisions on how to resolve a matter. I also met with victims, discussed restitution, and met with opposing counsel to determine the best manner to resolve the cases.
What were the key takeaways from your externship experience?
The key takeaway from the experience is the idea that the best resolutions in matters leave all the parties involved not necessarily happy, but better situated.
What were the biggest challenges or rewards in your externship?
The biggest challenge in my externship was the lack of confidence to trust myself. However, that is also the biggest reward. Because I lacked confidence, I was always testing myself. As an example, I tend to review every case on the calendar as if it was my own. In my notes, I listed my own recommendations. Then, when the cases went to court, I was able to compare my own predictions to the actual recommendations of the prosecutors in my office.This leads me to my biggest reward, which is being able to understand matters so fully that I am able catch recommendation oversights of others by asking questions, and making correct predictions. Within my role, I've grown tremendously since I started my position back in May. Now, I tend to make recommendations with much more ease than before. My supervisor's management and practice style has given me the opportunity to grow and flourish. This growth has given me the opportunity to extend my summer externship position with the Gem County Prosecuting Attorney's Office through graduation.
You are graduating in December 2021, what type of law do you hope to practice?
Ideally after graduation, I would like to be a prosecutor for the State of Alaska as a member of the Criminal Division. This would allow me to continue my role as a prosecutor and return to Fairbanks, my home. Unexpectedly, while this article was pending, I accepted a position with the Fairbanks District Attorney's Office as a Prosecuting Attorney. Of course, contingent upon bar results.
Name 1 item on your bucket list:
I'd love to see/visit every castle in the world!
What food would you never get tired of eating?
Ice Cream!
Who or what was your greatest influence growing up?
Ella Enchanted, the BOOK by Gail Carson Levine.
What's your favorite hobby?
Exploring and Adventuring are my favorite activities!
Tell us a fun fact about yourself.
I have a cute little family, two Australian Cattle Dogs named Kali and Khloi, and of course my Duramax (Chevy 2500 Diesel) named Duke.