UND Law Wins Championship at Regional Trial Competition
Team Headed to Texas for Nationals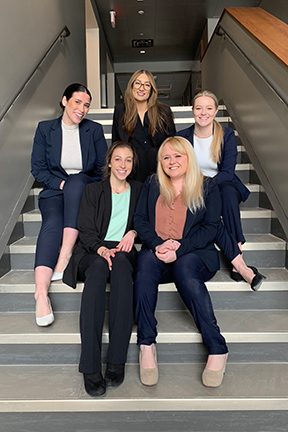 The UND Law Trial Team of Kirsten Allen (2L), Haylee Borgen (3L), and Anna Ingersoll (3L) emerged as the champions of the National Trial Competition for Region 12 held virtually February 18-20. They now advance to nationals in Fort Worth, Texas, beginning March 30, to be one of 30 law school teams from around the United States to compete for the title of national champions. The team is coached by Professor Denitsa Mavrova Heinrich along with former trial team champion, Erica Skogen Hovey '20, serving as assistant coach.
The UND Law Trial Team of Alexis Madlom (3L) and Ericka Muller Moran (3L) received high praises on their performance and presentation throughout the competition. They did an outstanding job in the three preliminary rounds receiving several perfect scores on their openings, exams, and closings. Unfortunately, the team fell just short of advancing to the semi-final round.
"The students worked tirelessly over the last couple of months, adapting and adjusting to changes in both the content of and the format for the competition," said Professor Mavrova Heinrich. "Their hard work, preparation, and dedication to the art of trial advocacy shined through at the competition. They represented UND with distinction, and I am so incredibly proud of them!"
The success of UND School of Law's Trial Team is reflective of the tremendous support the bench and bar show for UND's trial advocacy program. "Each year, we are humbled by the generosity of so many attorneys and judges, who offer their time to share their expertise, energy, and experience with our students," said Professor Mavrova Heinrich.
The team extends a special "Thank You" to the following individuals for being mentors, critics, and cheerleaders along the way: Britney Blake, Hannah Wegner Brink, Lori Conroy, Dean DePountis, Sandy DePountis, Montana Funk, Abigale Griffin, the Honorable Donald Hagar, Luke Heck, the Honorable James Hovey, Zac Ista, Eric Koppy, Bruce Quick, Emily Roark, and Jack Zuger. The success of the UND Law teams could not have happened without their dedicated and generous support!
"Watching the students perform at the competition filled me with hope about the future of our legal profession," said Professor Mavrova Heinrich. "That future sure is bright with advocates like them in it!"