UND School of Law Class of 2023 Encouraged to Embrace a Career of Lifelong Learning
Law School confers 54 Juris Doctor degrees during May ceremony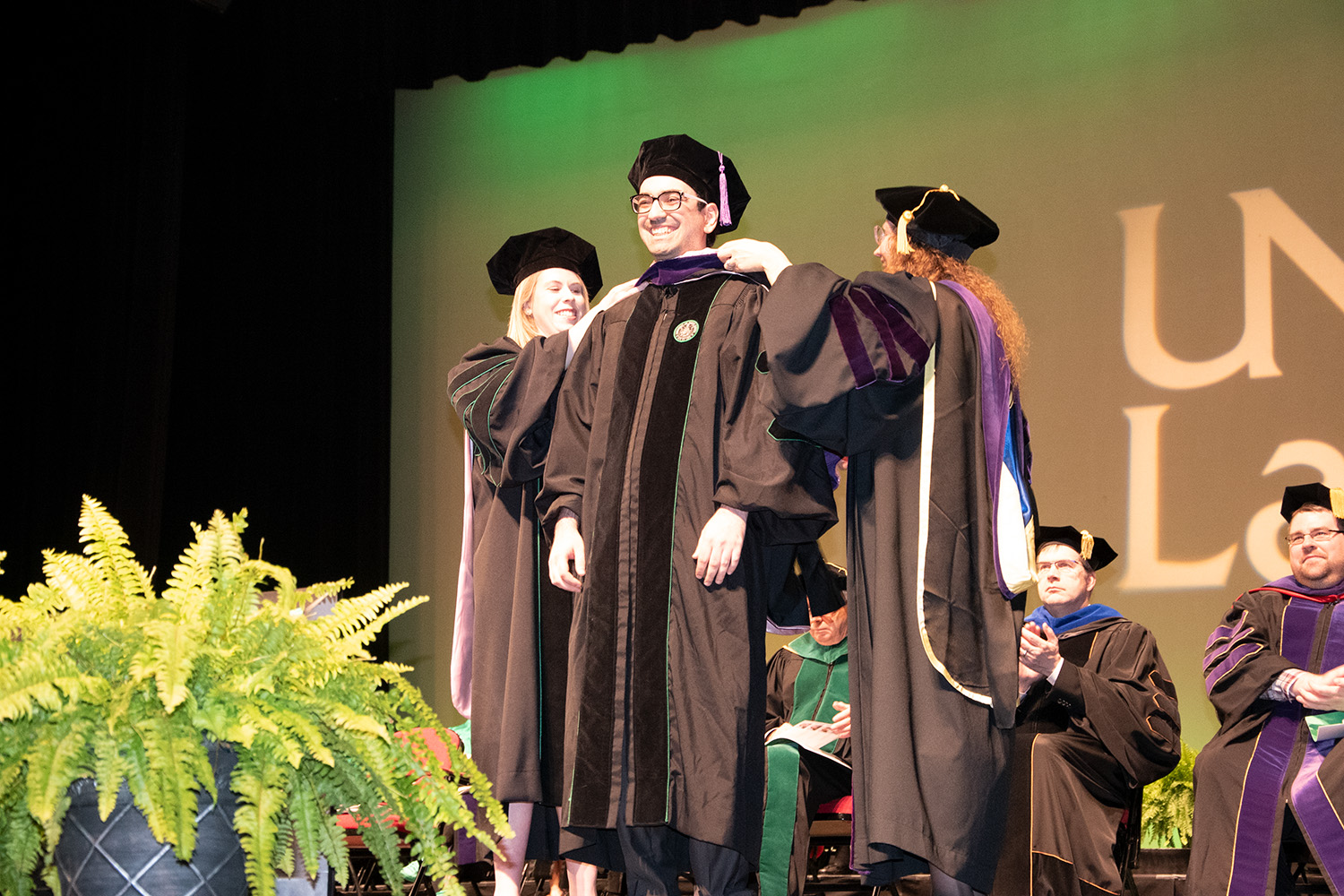 The University of North Dakota School of Law conferred the degrees of Juris Doctor (J.D.) during the commencement ceremony held Saturday, May 6, 2023 at the Chester Fritz Auditorium in Grand Forks, ND. UND School of Law Dean, Brian Pappas presided.
Forty-two candidates completed the degree requirements for the degree of Juris Doctor. An additional 19 members of the Class of 2023 completed degree requirements in December 2022. Fifty-four candidates participated in the ceremony on Saturday along with family, friends, UND administrators, faculty, staff, and honored guests.
Grant Christensen, former Professor of Law for the University of North Dakota and current Assistant Professor of Law at Stetson University College of Law, delivered the commencement address. During his last year at UND, he was the Civil Procedure professor for the graduating class, teaching Civil Procedure I in the fall and Civil Procedure II in the spring. During a first year marked by the rise of COVID-19, he and the Class of 2023 grappled with the challenges of the pandemic.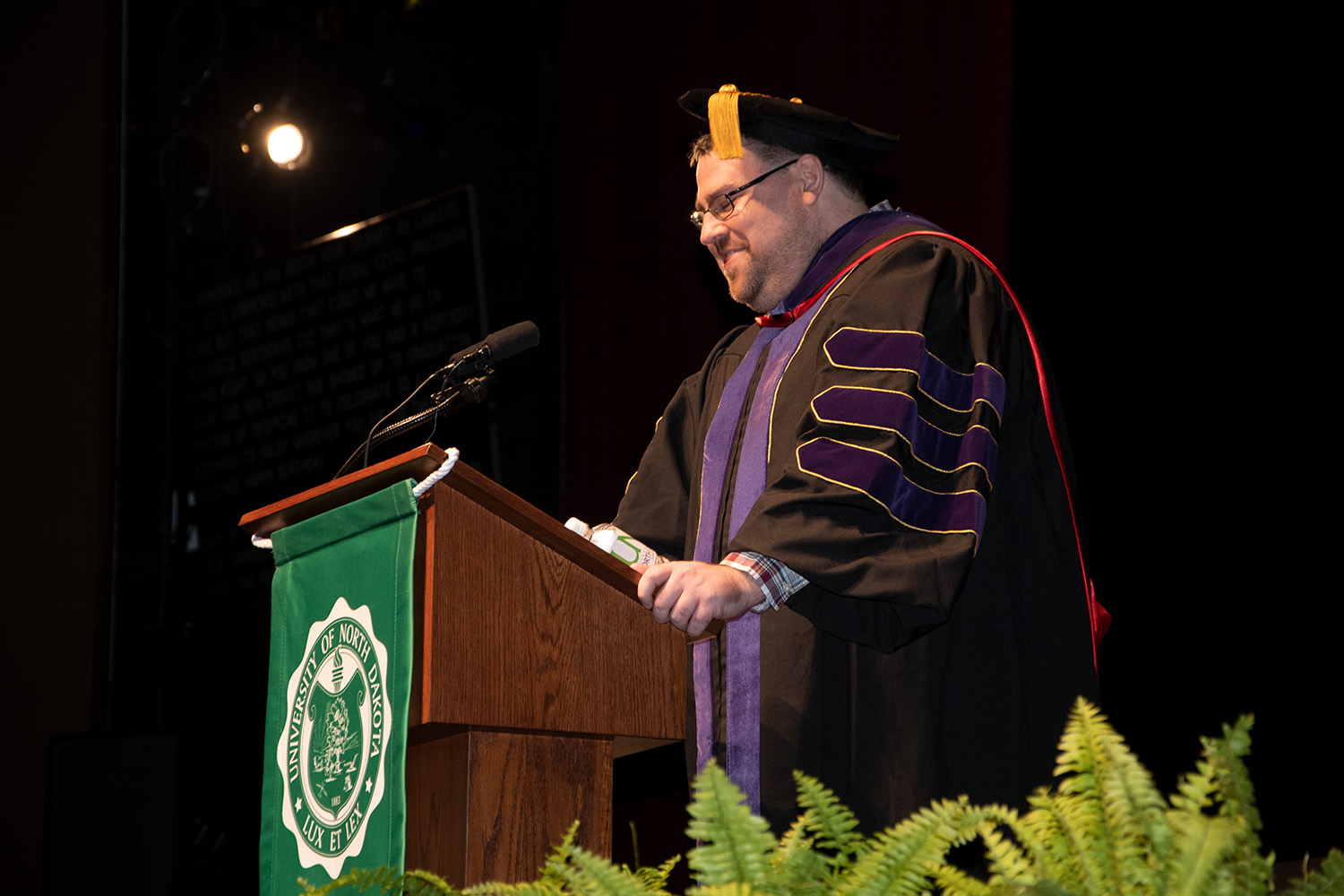 Professor Christensen opened his address by announcing he would provide the candidates with one last Civil Procedure class. Only after cold-calling on Gavin Mindt to answer the first question did he state that today was about celebrating and not causing panic. "I want to explore the lessons the rules can teach us outside of the context of civil litigation," continued Christensen.
He began with Rule 15(a) —the amendment should be freely given whenever justice so requires. Christensen reminded the candidates, "As you move forward, no longer as students —but as lawyers—remember that it is justice we are all trying to achieve." He urged them to do their due diligence and to not give up on a case, a client, a contract, a plea agreement, a lien, a motion, or an argument.
Continuing with Rule 11 —Sanctions, Christensen advised the new lawyers to learn to ask for help, "It is ok not to know the answer. It is not okay to proceed in ignorance."
Finally, Professor Christensen informed the candidates that being a lawyer is a career of lifelong learning and the law can be subjective. "After you cross the stage today —you will have earned your J.D. degree," concluded Christensen. "But your journey as a lawyer is just beginning."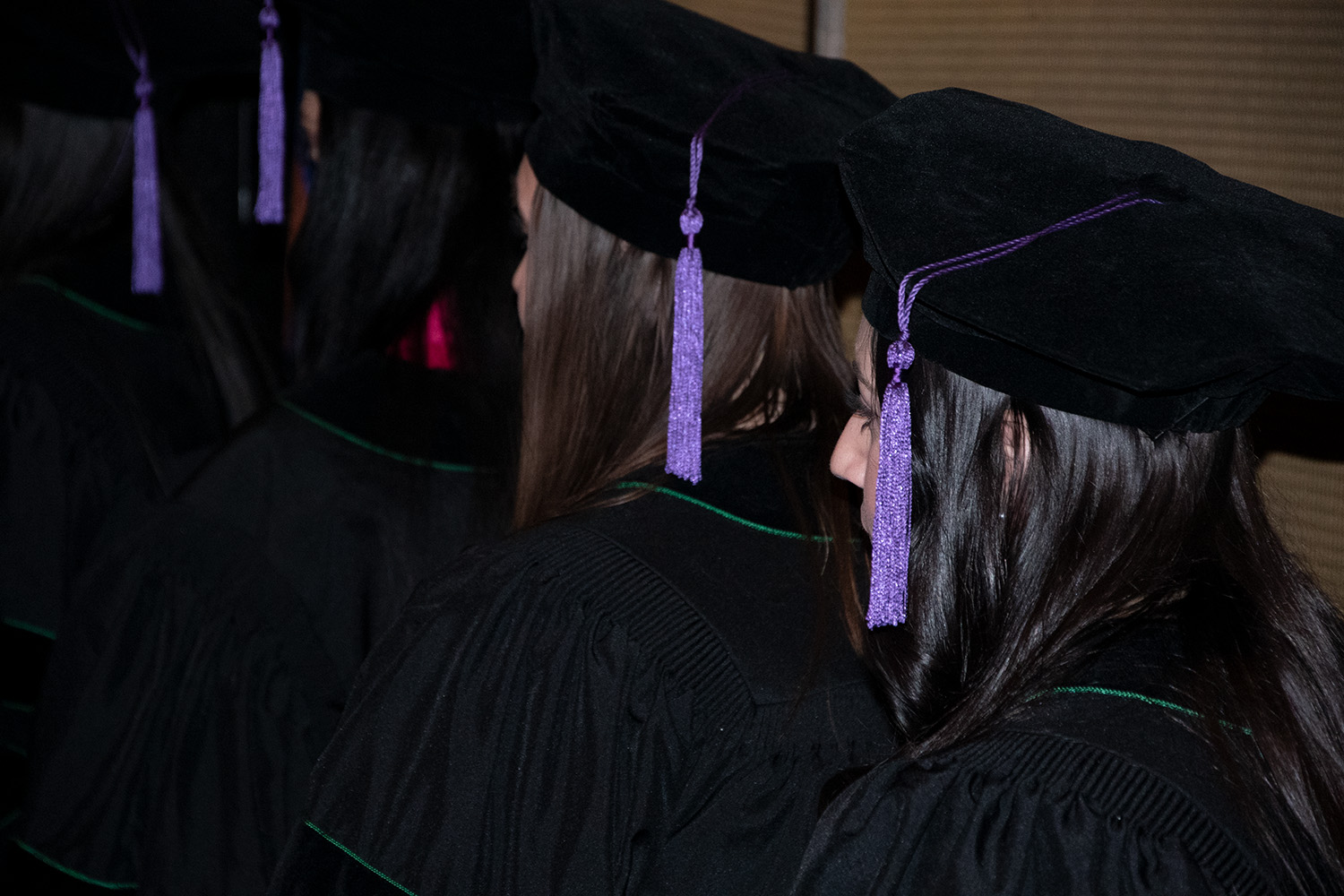 Dean Pappas presented the candidates to President Armacost for the conferral of the degrees. After the conferral of the degrees, the candidates crossed the stage to be hooded by Professor Ariana Meyers and Professor Julia Ernst. President Armacost presented them with their diploma cover.
At the conclusion of the ceremony, the graduates and their guests were invited to the Memorial Union Ballroom for a celebratory brunch. At the event, graduate Haley Finch was recognized as the 2023 Outstanding Law Student Leader. The recipient is selected by a vote of the law school faculty and staff.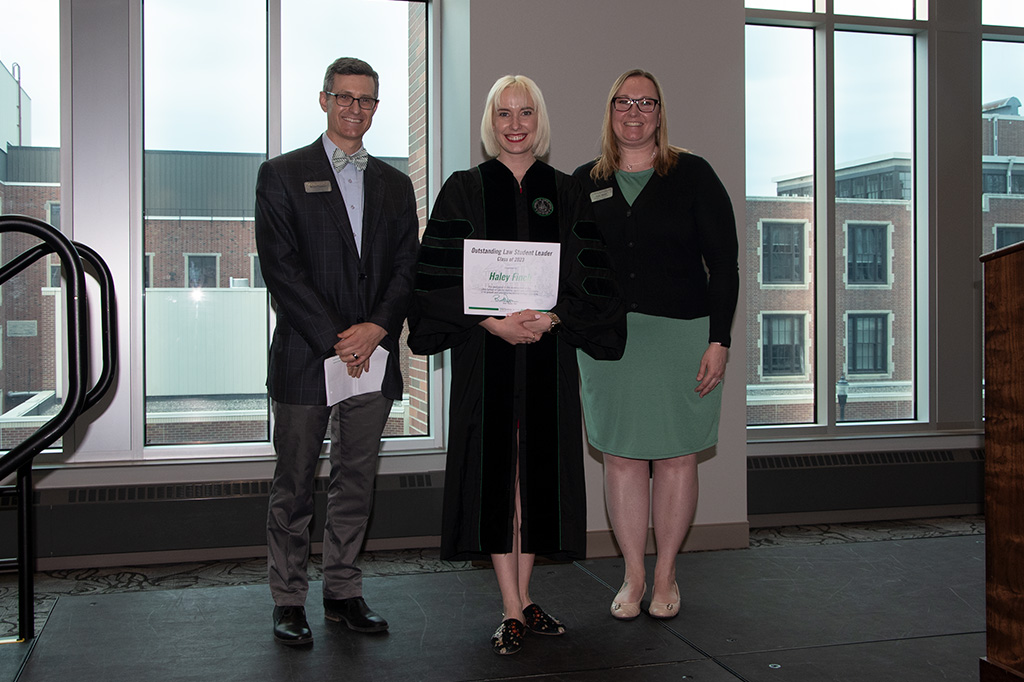 Open the Law Commencement Program Flipbook