Final Round Judges
Andrew Adams, III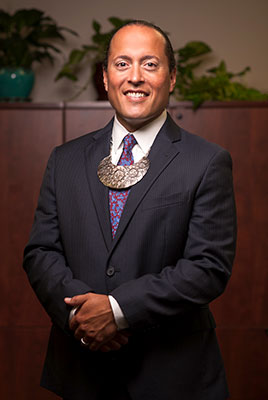 Andrew Adams III is a citizen of the Muscogee (Creek) Nation and member of the Tvlahasse Wvkokaye Ceremonial Grounds. Andrew has experience in the areas of federal Indian law, tribal constitutional law, tribal governance, litigation, gaming law, complex financial transactions,tax issues related to Tribal governments and individual tribal members, business law, employment law, treaty hunting, fishing, and gathering law, and government relations. In 2013, he and his partners founded Hogen Adams PLLC to provide legal services to Indian country. Andrew currently serves as Justice of the Muscogee (Creek) Nation Supreme Court, Chief Justice on the Santee Sioux Nation of Nebraska Supreme Court, and Justice on the Gun Lake Tribal Supreme Court.
Andrew currently serves as a Board Member for the State Bar of Wisconsin Indian Law Section, and previously served on the Board for the Federal Bar Association Indian Law Section and Minnesota American Indian Bar Association. Andrew has regularly lectured on Indian-law issues at seminars and conferences nationally. Andrew also serves as Chairperson of the Indian Education Parent Committee for the White Bear Lake Area School District / ISD624.
When Andrew is not at the office, he enjoys spending time with his children, visiting with family & friends, golf, being outside, coaching youth sports, hunting, traveling, playing flag football, watching football, stomp dances, pow wows, chilling on a beach, and running on a treadmill & outside.
Judge Leo Brisbois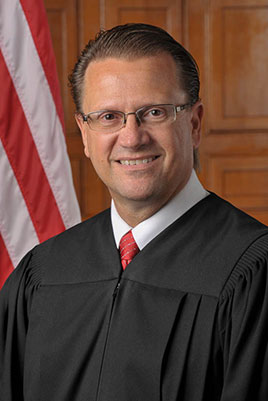 Judge Leo I. Brisbois currently serves as a United States Magistrate Judge for the U.S. District Court, District of Minnesota. He was sworn in as a U.S. Magistrate Judge on August 30, 2010. He is principally chambered at the Gerald W. Heaney Federal Building and U.S. Courthouse and Customhouse in Duluth, MN, but he also regularly hears cases at the Federal Courthouses in St. Paul and Fergus Falls, MN.
Judge Brisbois is a member of the bar of the Minnesota State Supreme Court, the United States District Court for Minnesota, the 8th Circuit Federal Court of Appeals, and the United States Supreme Court.
Judge Brisbois was born in Aurora, Minnesota, in October 1961. He is the son and grandson of enrolled members of the White Earth Band of Ojibwe Indians. Judge Brisbois grew up in Hibbing, MN, and graduated from Hibbing High School in 1980. He graduated (magna cum laude) with a Bachelor of Arts Degree from Hamline University in St. Paul, MN, in 1984. In 1987, he graduated 19th in his class (cum laude) from Mitchell-Hamline School of Law.
After graduating from law school, Judge Brisbois served as a trial counsel prosecuting criminal cases from 1987 to 1990 with the Judge Advocate General's Corps, United States Army, Europe. He received several awards and commendations during his military service. Following his active duty military service and another year clerking for the Minnesota State Intermediate Court of Appeals, Judge Brisbois joined the Minneapolis firm of STICH, ANGELL, KREIDLER, DODGE & UNKE, P.A., in August 1991, where he eventually became a partner. His private practice principally involved litigation and appellate work for insurance companies and corporate clients in the areas of personal injury, product liability, construction litigation, employment discrimination and insurance coverage disputes. He also regularly served as an arbitrator for the American Arbitration Association, as a Conciliation Court Judge for the Hennepin County District Court, and he provided services as a private mediator upon request.
Judge Brisbois has previously served as a volunteer board member for such community non-profits as the American Indian Policy Center, the Indian Child Welfare Law Center, Anishinaabe Legal Services, and the Children's Theatre Company of Minneapolis. He was also appointed by the Minnesota State Supreme Court to serve from January 2007 to August 2010 as a member of the Minnesota Commission for Judicial Selection which conducts merit interviews and recommends individuals to the Governor for possible appointment to fill judicial vacancies on the Minnesota State District Court.
Judge Brisbois also served as the President of the almost 17,000 member Minnesota State Bar Association from July 1, 2009 to June 30, 2010. Judge Brisbois is or has also been a member of the Minnesota American Indian Bar Association, the National Native American Bar Association, the Minnesota Defense Lawyers Association, the Defense Research Institute, the National Conference of Bar Presidents, the Douglas K. Amdahl Inn of Court, the Federal Bar Association-MN Chapter, and the Federal Magistrate Judges Association. Judge Brisbois is active in the American Bar Association, Judicial Division, where he served as an Chair of the National Conference of Federal Trial Judges from August 2019 thru July 2020.
Judge Brisbois is married and has two children.
Chariman Mark Fox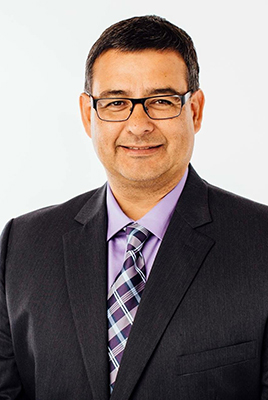 Mark N. Fox is the Chairman of the Mandan, Hidatsa, and Arikara Nation. Fox is a veteran of the U.S. Marine Corps and earned his law degree in 1993 from the University of North Dakota. First elected Chairman in 2014, Fox is currently serving his second term.
Chairman Fox currently serves on three federal advisory boards for the Department of Energy, Department of Interior, and the Environmental Protection Agency. He previously served on advisory boards with the Internal Revenue Service and the National Indian Gaming Commission as well. Chairman Fox also served on various national and tribal boards, including the Intertribal Monitoring Association on Trust Funds (ITMA) and four terms as Treasurer of the National Indian Gaming Association (NIGA).
Chairman Fox has also been the Vice Chairman of the United Tribes Technical Center and the United Tribes of North Dakota. He was recently elected Chairman of the Coalition of Large Tribes (COLT).
A fierce proponent of tribal sovereignty, Chairman Fox has dedicated his administration to improving the lives of all MHA Nation members. Under his leadership, tribal members have received increased education, addiction, and health services. Chairman Fox has also expanded and enhanced tribal infrastructure and transparency in governmental affairs.
Chairman Fox is renowned for his work in the areas of taxation, gaming, energy, and economic development. In his personal time, Chairman Fox enjoys participating in events that endorse good health and endurance challenges.
Judge Mary Seaworth
Mary Seaworth grew up in Bismarck, North Dakota. She graduated from University of North Dakota with a BA in Speech/Theatre and BS in Elementary Education. She graduated from the University of North Dakota Law School in 1983 and entered into private practice in Grand Forks, ND.
She has been licensed to practice law in North Dakota, Minnesota, in state and Federal courts, including the 8th Circuit court of appeals, Spirit Lake Nation, Turtle Mountain Tribal court, and the Fort Berthold District Court.
She has spent over 30 years in a general law practice including criminal defense in state and federal courts and a civil law practice with an emphasis on Family Law, including Hague Convention international custody matters in Federal Court.
In 2013, she moved to Minot, ND and worked in the North Dakota Public Defenders Office serving the North Western Judicial Districts in North Dakota. She took a position with Three Affiliated Tribes at the Fort Berthold District Court as a judicial referee in 2015. She was appointed acting Chief Judge, until September of 2020 and now serves as a full time associate Judge for the Fort Berthold District Court.
During her career as a private attorney she served on the National Conference of Commissioners on Uniform State Laws. In that Conference she was a member of the drafting committee for the Uniform Family Support Act and Uniform Child Custody Jurisdiction and Enforcement Act. She was a member of the Minnesota State Bar Association Assembly for 6 years. She was a Judicare Attorney in Minnesota serving legal aid clients for over 30 years. She has served on numerous state and federal bar committees and presented CLE programs nationally, in North Dakota and Minnesota that address the needs of minority and low income litigants and legal education. She was chairman of the Family Law Section of North Dakota for several years and complied the North Dakota Family Law Manuel for the State Bar Association.
Commissioner Erica Thunder
Erica Thunder, Commissioner for North Dakota's Department of Labor and Human Rights (ND DOLHR), has an extensive background in Tribal Law and Policy. A member of the MHA Nation (Mandan, Hidatsa, Arikara), of Fort Berthold, North Dakota, she grew up in Bottineau and the Turtle Mountains of North Dakota. She received both her Bachelor and Juris Doctorate degrees, as well as Certificate in Indian Law, from the University of North Dakota, as well as its School of Law. She has previously been employed with her Tribe, MHA Nation, as a Staff Attorney for its Legal Department, as well as serving as a Staff Attorney and Project Facilitator for the Ho-Chunk Nation of Wisconsin's Trial Court, as well as its Department of Social Services. Before becoming Commissioner of the Department of Labor and Human Rights, she served as the Judicial Systems Administrator for the North Dakota Indian Affairs Commission (NDIAC). Commissioner Thunder recently served as the Interim Executive Director for the NDIAC. In late 2020 after her Interim appointed finished, Commissioner Thunder was asked by Governor Doug Burgum to serve as one of eight appointed Commissioners to the NDIAC.
ND DOLHR is responsible for enforcing North Dakota labor and human rights laws and for educating the public about those laws. The Department also licenses employment agencies operating in the state and can verify the status of independent contractor relationships.
Judge Terri Yellowhammer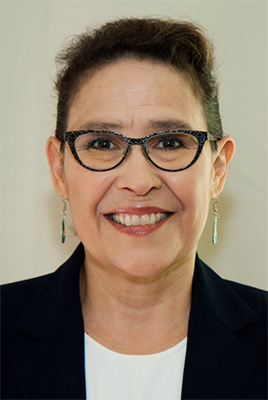 Terri Yellowhammer serves as judge for the Hennepin County, 4th Judicial District. She was appointed on November 16, 2020 by Governor Tim Walz for a term that expires January 2, 2023.

Education:

College of St. Catherine, B.A. 1985
University of Minnesota Law School, Juris Doctor 1995

Employment:
Hennepin County, American Indian Community Relations Development Manager, 2018 – 2020
Indian Child Welfare Law Center, Staff Attorney, 2014 – 2017
White Earth Tribal Court, Appellate Judge 2012 - 2014
White Earth Tribal Court, Judge, 2007 – 2011


Professional Memberships:
Minnesota American Indian Bar Association
Minnesota State Bar Association
Proof Alliance
Indian Child Welfare Act (ICWA) Law Center Cabinet
Casey Family Programs Indian Child Welfare Act Tribal & Specialty Courts

Professional and Community Activities:
Minneapolis Children's Hospital, Volunteer Cohort
Minnesota ICWA Guardian Ad Litem for Hennepin and Ramsey Counties
Minnesota Indian Women's Resource Center, Board Chair
National Crittenton Foundation, Board of Trustees
Hennepin Health Care, Community Advisory Board
7th Generation Tribal Mentoring Program

Additional Information:
Education Development Center, Inc. Tribal Services Manager
Consultant - Midwest Child Welfare Implementation Center, National Children's Bureau
National Council of Juvenile and Family Court Judges, Trainer
Futures without Violence, Consultant
Achievement Award – MN DHS for work on the 2007 Tribal/State Agreement on Indian Child Welfare
Honorable Diane J. Humetewa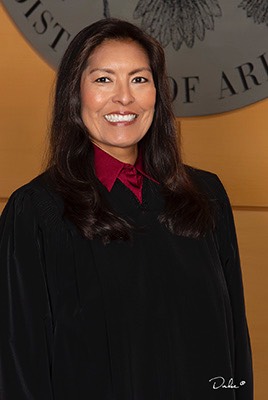 The Honorable Diane J. Humetewa was confirmed by the United States Senate on May 14, 2014 as a United States District Judge for the United States District Court in the District of Arizona. In addition to her judicial responsibilities on the bench, Judge Humetewa serves on multiple court committees at the district and circuit levels regarding pro se litigants, judicial education and tribal issues.
Prior to her judicial confirmation, she served as Special Advisor to the President and Special Counsel in the Office of General Counsel at Arizona State University (2011-2014). She also served as a Professor of Practice at Arizona State University's Sandra Day O'Connor College of Law.
Judge Humetewa was formerly Of Counsel with the law firm of Squire, Sanders & Dempsey LLP (2009-2011), representing tribal government clients as a federal Indian law and natural resources law attorney
She served in the United States Attorney's Office in the District of Arizona (1996-2009), where she was Senior Litigation Counsel (2001-2007) -- prosecuting a wide variety of federal crimes, including violent crimes in Indian Country, Native American cultural crimes, and archeological resource crimes -- and later the United States Attorney for the district (2007-2009). During her tenure in the United States Attorney's Office, Judge Humetewa served as Counsel to the Deputy Attorney General (1996-1998) and as Deputy Counsel for the United States Senate Committee on Indian Affairs (1993-1996).
Judge Humetewa received her J.D. in 1993 from Arizona State University College of Law and her B.S. in 1987 from Arizona State University. She is a member of the Hopi Tribe and has served as an Appellate Court Judge for the Hopi Tribe Appellate Court (2002-2007).