Email #14: July 8, 2022
Good afternoon, Class of 2025 – a couple of items for this week's email:
Reminder – If you haven't yet registered for the first four Fall courses (Civil Procedure I, Torts, Contracts I, and Property), please do so as soon as possible (here is a link to Email #11 in case you need those instructions again). By registering, it provides further confirmation that you plan to join us this Fall. If you haven't registered by Wednesday, July 13th, you may receive follow-up outreach from me.
Save the Date – It's common (and highly encouraged) for law students to get actively involved in student organizations during their time in law school, so we wanted to share the Save the Date information for our Student Organization Fair. This event gives you the opportunity to learn about all the organizations within the law school and how to get involved.

U Card – One Stop Student Services is asking for law students to get a jump start on their U Card orders. Typically, incoming students are not able to place orders until August 1st, but they want to give our students a head start. If you have registered for Fall courses, you are able to submit the online order form now!!! (PLEASE NOTE – if you were a UND undergraduate student and already have a U Card, you don't need to get a new one.)

One Stop Student Services asks that you complete the "All Student Order Form" and upload an individual photo and image of a government issued ID here - https://und.edu/one-stop/ucard/obtaining.html
When completing the address portion, see the image below to see how to request your card to be sent to the law school (rather than sent to your home address listed on Campus Connection). The law school will distribute the U Cards during Orientation Week.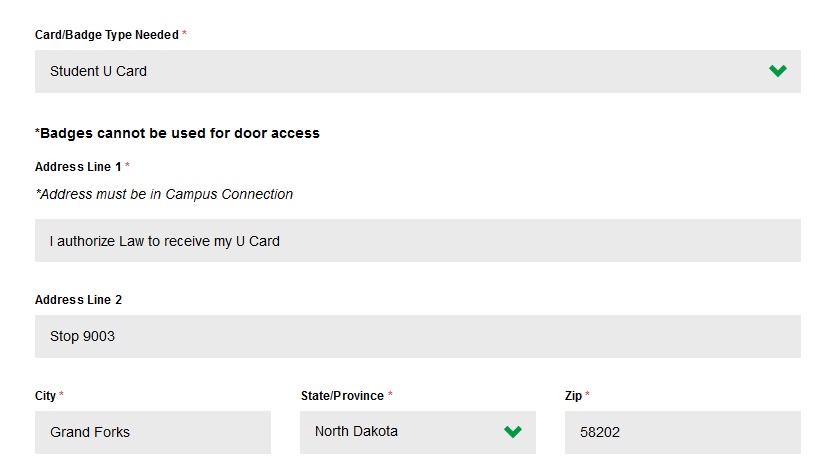 Take care, and have a great weekend!
Brad
Brad Parrish, J.D., Ph.D.
Assistant Dean for Student Services
University of North Dakota School of Law
School of Law, Room 140E
215 Centennial Drive Stop 9003
Grand Forks, ND 58202-9003
O 701.777.2047 | D 701.777.3004 | F 701.777.3895