2023 UND Law Orientation - August 13-18
Welcome to the University of North Dakota School of Law!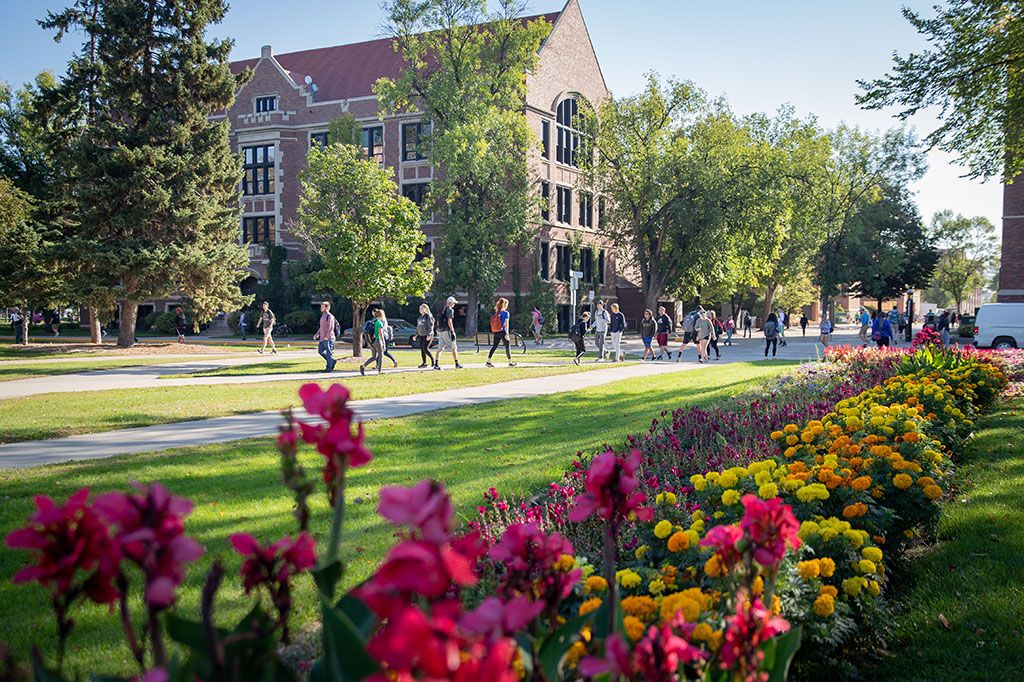 Required for all first-year law students, orientation will introduce you to the law school, your classmates, faculty, staff, and your legal education. Orientation will provide you with the introduction you need to succeed in your first semester of law school.
Orientation Schedule 2023
Sunday,
August 13

5:00 p.m.
Monday,
August 14

Attire: Casual

8:30-9:00 a.m.

CHECK-IN (International students)

Office of Student Life, Suite 140 | UND School of Law

9:00-10:00 a.m.

CHECK-IN (domestic students)

Office of Student Life, Suite 140 | UND School of Law

9:00-10:00 a.m.

INTERNATIONAL CENTER PRESENTATION (International students only)

Room 203 | UND School of Law

10:15 a.m.

WELCOME FROM DEAN BRIAN PAPPAS

Room 203 | UND School of Law

10:30-11:30 a.m.

STUDENT LIFE PRESENTATION - ASSISTANT DEAN BRAD PARRISH

Room 203 | UND School of Law

11:30 a.m.

CLASS PHOTO

School of Law sign along University Avenue

12:00-1:00 p.m.

LUNCH (ON YOUR OWN)

1:10-2:15 p.m.

ALCOHOLISM/ADDICTION IN THE LEGAL PROFESSION - THE HONORABLE ROBIN SCHMIDT AND ATTORNEY ROBERT QUICK

Room 203 | UND School of Law

2:15-3:00 p.m.

UNIVERSITY COUNSELING CENTER PRESENTATION

Room 203 | UND School of Law

3:00 p.m.

BREAK

3:15-3:45 p.m.

LAWYER ASSISTANCE PROGRAM INFORMATION - TONY WEILER, EXECUTIVE DIRECTOR, SBAND

Room 203 | UND School of Law

3:45-4:45 p.m.

HOW TO HAVE DIFFICULT CONVERSATIONS - DEAN BRIAN PAPPAS

Room 203 | UND School of Law

4:45 p.m.

WRAP-UP/ Q&A
Tuesday,
August 15

Attire: Casual

8:15-9:00 a.m.

COFFEE & CONVERSATION (WITH ORIENTATION GROUP) SPONSORED BY HELIX BAR REVIEW

Specific Locations TBD | UND School of Law

9:00-11:00 a.m.

EQUITY, INCLUSION, PROFESSIONALISM, AND TITLE IX - BETH VALENTINE, EQUITY COMPLIANCE AND EDUCATION MANAGER

Room 203 | UND School of Law

11:00-11:15 a.m.

Break

11:15 a.m. - 12:15 p.m.

ACADEMIC ADVISING & STARFISH - BRITTANY BORGEN AND MELANIE SCHINDLER

Room 203 | UND School of Law
Wednesday,
August 16

Attire: Casual

8:15-9:00 a.m.

COFFEE & CONVERSATION (WITH ORIENTATION GROUP) SPONSORED BY THEMIS BAR REVIEW

Specific Locations TBD | UND School of Law

9:00-10:15 a.m.

DIFFICULT CONVERSATIONS DIALOGUE - DEAN BRIAN PAPPAS

Room 203 | UND School of Law

10:15-10:30 a.m.

BREAK

10:30 a.m. - 11:15 a.m.

LAW LIBRARY/ COMPUTER SERVICES


Room 203 | UND School of Law

11:15-1:00 p.m.

LUNCH (ON YOUR OWN)

1:00-3:30 p.m.

LAWYERING SKILLS I

Oltz | Room 8 | School of Law

Williams | Room 203 | School of Law

Samarzja | Room 334 | School of Law

Cook | Room 6 | School of Law
Thursday,
August 17

Attire: Casual

8:15-9:00 a.m.

COFFEE & CONVERSATION (WITH ORIENTATION GROUP) SPONSORED BY BARBRI BAR REVIEW

Specific locations TBD | UND School of Law

9:00-10:15 a.m.

CORE VALUES OF THE LEGAL PROFESSION - PROFESSOR MICHAEL MCGINNISS

Room 203 | UND School of Law

10:15-10:30 a.m.

BREAK

10:30 a.m. - 12:00 p.m.

WELLNESS PRESENTATION - PROFESSOR JENNIFER COOK

Room 203 | UND School of Law

12:00-1:00 p.m.

LUNCH (ON YOUR OWN)

1:00-1:45 p.m.

SCHOOL OF LAW ACADEMIC STANDARDS & POLICIES - ASSISTANT DEAN BRAD PARRISH


Room 203 | UND School of Law

2:00-4:30 p.m.

LAWYERING SKILLS I

Oltz | Room 8 | School of Law

Williams | Room 203 | School of Law

Samarzja | Room 334 | School of Law

Cook | Room 6 | School of Law
Friday,
August 18

Attire: Casual

8:00 a.m. -12:00 p.m.

ACADEMIC SUCCESS PROGRAMMING - PROFESSOR BLAKE KLINKNER

Ballroom C | UND Memorial Union