Email 12: June 24, 2022
Happy Friday, Class of 2025 – a few items of interest for this week:
Registration – if you have not yet registered for Fall 2022 classes, please do so by July 1. You will need to claim your IdM account in order to register (you can find information on that process in previous weekly emails), and you'll also need your IdM credentials to access additional information you'll need to review prior to Orientation (more information on those resources to follow).
BankMobile –

You may have received or will be receiving information about Bankmobile (UND's Refund Servicer). We received the following information from One Stop Student Services:

To Set Up Your Refund Preference:

Log into Campus Connection
Click the Financial Account tile
Select Direct Deposit
Authorize Duo Push and select UND. You will be re-directed to the BankMobile website

Services/Resources –

School of Law students have access to several services on UND's Campus and in the community. I've highlighted several below:

SafeCampus App –

Allows for students, staff, faculty, and parents to access up-to-date emergency preparedness procedures and other campus information on a smart device, even if you lose WiFi or cellular connection. Users can receive push notification alerts; get step-by-step actions for specific situations such as fire, severe weather and other emergencies; and make one tap calls to key contacts. An incident reporting feature allows members of the campus community to provide information on hazardous conditions; ask questions; seek help; and link reports to a GPS locator and add photo attachments. The app also houses a variety of images, training videos, helpful links, resources and attachments. SafeCampus can be downloaded from the Apple App Store or Google Play.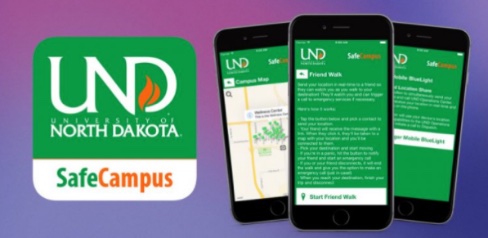 Ask EDNA! - the Education Network at AccessLex (Ask EDNA!) is your one-stop shop to access MAX by AccessLex®, the personal finance program for law students, as well as all-new student success and bar success tools. To access these resources:

Register for your free account at AskEDNA.AccessLex.org now to enter MAX by AccessLex® and sign up for live events and one-on-one financing coaching with Accredited Financial Counselors®.
Complete the "Financial Foundations" course and gain entries to the annual MAX scholarship drawings.
AccessLex wanted to make it easier for students to find money that's already available to help pay for law school and lower their student loan burdens. So they did it! The AccessLex Law School Scholarship Databank is now available! The Databank includes scholarships for incoming and returning law students or towards bar study costs. It's the most comprehensive list of scholarships out there that's designed specifically for law students and those interested in a law career. Check it out today!
Take care and have a great weekend!!
Brad
Brad Parrish, J.D., Ph.D.
Assistant Dean for Student Services
University of North Dakota School of Law
School of Law, Room 140E
215 Centennial Drive Stop 9003
Grand Forks, ND 58202-9003
O 701.777.2047 | D 701.777.3004 | F 701.777.3895
bradley.parrish@law.UND.edu | www.law.UND.edu